International Mining Hall of Fame nominations have now closed: details will be published in the November 2013 issue of International Mining.  CEEC's founding Chair Elizabeth Lewis-Gray and co-director Joe Pease are nominated in the Comminution section, along with CEEC sponsor RME's John Russell.
"Comminution
This category received the highest number of nominations which were shortlisted to Elizabeth Lewis-Gray (CEEC), Joe Pease (IsaMill), John Russell (Mill Relining System), John Starkey (SAGDesign test), Samuel Calvin McLanahan (1842-1928; Log Washer and the Single Roll Crusher) and Prof Alban Lynch.
"Alban Lynch's achievements in mineral processing over 50 years have been made in two different but related fields: research and education. Both of these have had a global impact on mineral processing technology itself, on the people who practice the profession, and in the modus operandi of much mineral processing research to-day."
Joe Pease, COO, Xstrata Technology, has been in the mining industry for over 30 years, in a range of technical and managerial roles. A large part of his career has been at Glencore Xstrata's Mount Isa Mines (MIM), and more specifically, in the lead/zinc concentrator at that site. During this time, the 'spark' of using small scale industrial fine grinding in mineral processing was initiated in the labs at MIM to combat the company's deteriorating ore quality, which lead to the birth of IsaMill™ comminution technology. Then there is the RME mill relining technology.
Leaving MIM in 1985, Dr John Russell formed Russell Mineral Equipment. Before RME entered this market, a large SAG mill commonly required 160 hours for a standard reline. RME's goal was to halve this. In 2012, the RME RUSSELL Twin 8 Mill Relining System relined a 38' SAG Mill in Chile in less than 40 hours.
In 2011, Elizabeth Lewis-Gray chaired the inaugural Board meeting of CEEC International. She had identified a significant gap in accessing data on energy efficient comminution processes. While comminution is known to be the highest energy consuming step in mineral processing, she discovered it was challenging to source published documentation to support this hypothesis. Crushing and grinding steps in mineral processing represent a substantial proportion of total electrical energy in mining up to 3% of the world's electrical energy. For some mine sites the energy usage by crushing and grinding processes represents up to 70-90% of total energy consumption.
It is claimed that John Starkey's SAGDesign™ test "is the most accurate grindability test available." It measures the pinion energy to grind ore from 80% passing 152 mm to 80% passing 1.7 mm (WSAG). The second stage of the test measures the Bond Ball Mill Work Index on SAG ground ore, Sd-BWI.
Samuel Calvin McLanahan changed the direction of his family's company (today's McLanahan Corp) from that of a foundry to a
leading manufacturer of mineral processing equipment. His most important inventions - the Log Washer and the Single Roll Crusher - remain in use worldwide in a wide range of minerals processing plants."
CEEC congratulates the nominees across the categories. I encourage you to attend the Award dinner, to be held at the Grand America Hotel, Salt Lake City, Utah on February 22, 2014.
[caption id="attachment_2317" align="aligncenter" width="448"]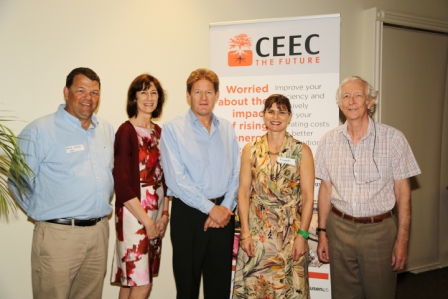 CEEC Directors: Mike Daniel, Sarah Boucaut (EO) Mike Battersby, Elizabeth Lewis-Gray, Tim Napier-Munn. Absent: Zeljka Pokrajcic, Joe Pease[/caption]
Categories