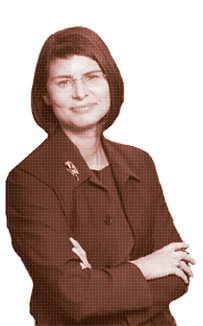 Founding Chairman : Elizabeth Lewis-Gray
Elizabeth Lewis-Gray is co-founder, Chairman and Managing Director of Ballarat-based Gekko Systems, a world leader in gold processing technology.

She is a member of the Australian Federal Government's, Innovation Australia Board. Elizabeth and Gekko have won several awards including: 2007 Warren Centre Innovation Heroes Award; Winner Best Early Stage Category Award – 2003 Australian Venture Capital Awards. The company has been twice listed in Deloitte's Technology Fast 50.

Elizabeth was inducted into the Australian Businesswoman's Hall of Fame in 2000.
Professor Tim Napier-Munn
Tim Napier-Munn is a metallurgist with 40 years experience. He has a Bachelors degree in Mineral Technology and a PhD from Imperial College, London, and a Masters degree from the University of the Witwatersrand, Johannesburg. He worked for DeBeers in South Africa for 11 years, in the final 4 years as Manager of the Diamond Research Laboratory Mines Division, and lectured for 3 years at Imperial College. He joined the JKMRC at the University of Queensland in 1985, where he ran a number of large industry-based research projects, becoming Research Director in 1993, JKMRC Director in 1997 and inaugural Managing Director of the JKMRC commercial company JKTech Pty Ltd in 2001, retiring from these two roles in 2004. Since then he has worked with the JKMRC, consulted to industry and given professional development courses. Tim's technical specialities include the dense medium separation process, mathematical modelling of mineral processes, and the application of statistical methods to mineral processing. He has recently given his 100th course on Statistics for Metallurgists, and is currently writing a book on the subject. He has over 100 publications including contributions to three books. He was editor of, and contributor to, the JKMRC's book 'Mineral comminution circuits – their operation and optimisation'.