Attending Procemin 2013?
Make sure you register for the course being run by  Alex Doll, Comminution Consultant, Canada, and Peter Amelunxen, Aminpro Chile.
The course is for engineers with intermediate or advanced understanding of grinding circuits:
EPCM engineers who will be designing and specifying grinding equipment.

Plant metallurgists who want to benchmark their circuit against models to identify opportunities for improvement.

Metallurgists performing throughput predictions for mounting into geometallurgical models.
Participants are expected to already be familiar with:
General understanding of the equipment used in grinding circuits: rod mills, SAG mills, ball mills, pebble crushers.

Operating a web browser on a computer or tablet.
[caption id="attachment_2342" align="alignleft" width="300"]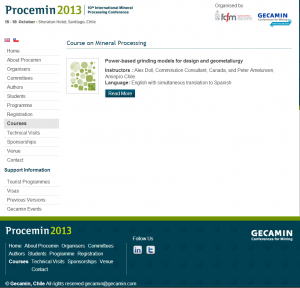 Procemin 2013 Short Courses[/caption]

Categories