CEEC's Board sends its hearty congratulations to fellow director Maryse Belanger on her recognition by the Women in Mining UK   "WIM (UK)" 100 Global Inspirational Women in Mining Project as one the the most inspirational Global Women in Mining. Maryse is passionate about innovation in the mining industry, and has both Technical and Energy efficiency management in her portfolio at Goldcorp.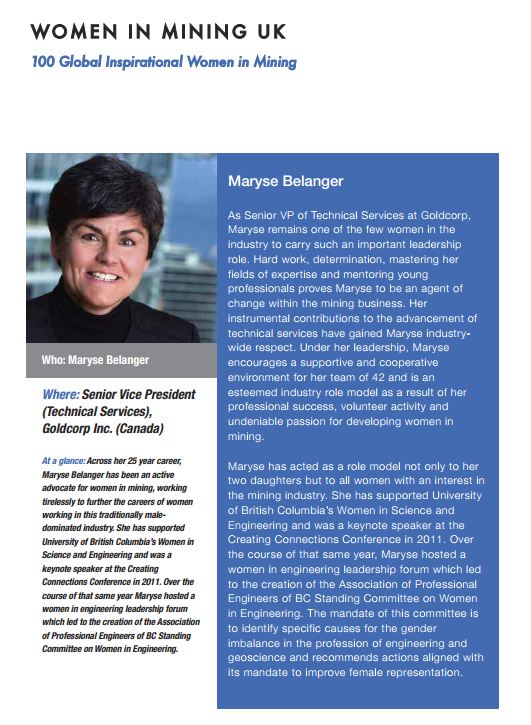 "The Women in Mining UK("WIM (UK)") 100 Global Inspirational Women in Mining Project is an international collaboration between women in mining groups from the UK, Australia, Canada, South Africa and the United States. It is widely acknowledged that inspirational role models can play a large part in inspiring a new generation of professionals and we aim to facilitate development in this arena.
In 2012, WIM (UK) commissioned a three stage study in conjunction with PWC (London) to analyse trends and performance of women on boards and in senior executive positions in the global mining industry. That study sought to correlate the performance of mining industry organisations with the level of gender diversity within them - to demonstrate some of the benefits that higher female representation on boards and in senior executive positions can have on corporate performance.
The results made for interesting reading. The mining industry had fewer women on its boards and in its senior executive positions than any other major global industry, and by a considerable margin. Those with women on boards significantly outperformed those without them in terms of recorded profits, resource-to–reserve definitions and sustainability, among other metric.
One of the main challenges identified by the report was the lack of role models in the sector. As a result, we have created this truly international project to identify some of the most inspirational women in the global mining industry. The 100 Global Inspirational Women in Mining Project received over 500 nominations from throughout the world. Working with our international women in mining partner groups, we have assembled 100 individuals whom, we believe, demonstrate skills and attributes which can inspire a new generation of professionals in all walks of the mining industry.
Determining how to choose from so many inspiring nominations was no mean feat. Convening WIM (UK)'s Executive and Advisory Board (who were exempted from the nomination process but about whom you can read more in the back pages of this project) we began reading through the details of countless women who contribute positively to the mining industry and can serve as an inspiration to others.
Those we selected stand out in a number of ways. They have a lasting impact on the industry. They support other women in mining, and the communities and environments impacted by the industry. We wanted to make sure that regardless of career stage, discipline or jurisdiction, the end result also encapsulated how diverse and high achieving women in our industry are."
Amanda Van Dyke, Chairman, Women in Mining (UK)
Ms. Belanger was appointed Senior Vice President, Technical Services at Goldcorp in 2012. Ms. Belanger has previously held the roles of Vice President, Technical Services and Director, Technical Services at Goldcorp over the last four years. With over 25 years' experience in the mining industry, Ms. Belanger is currently responsible for managing the company's Technical Services team by overseeing all aspects of geology, geostatistics, mine planning,  metallurgy, tailings, hydrology, rock mechanics,  geotechnical engineering, underground development, energy, innovation strategy and project management.  Her team provides support to the mining operations, prepares pre-feasibility and feasibility studies, implements best practices and corporate standards as well as provides oversight to corporate development activities.  Prior to joining Goldcorp, Ms. Belanger was Director, Technical Services for Kinross Gold Corporation from 2003 to 2009. Her experience covers all commodities on four continents. Ms Belanger holds a Bachelor degree in Geology and a graduate certificate in Geostatistics. She is fluent in English, French, Spanish and Portuguese.
[caption id="attachment_2759" align="aligncenter" width="522"]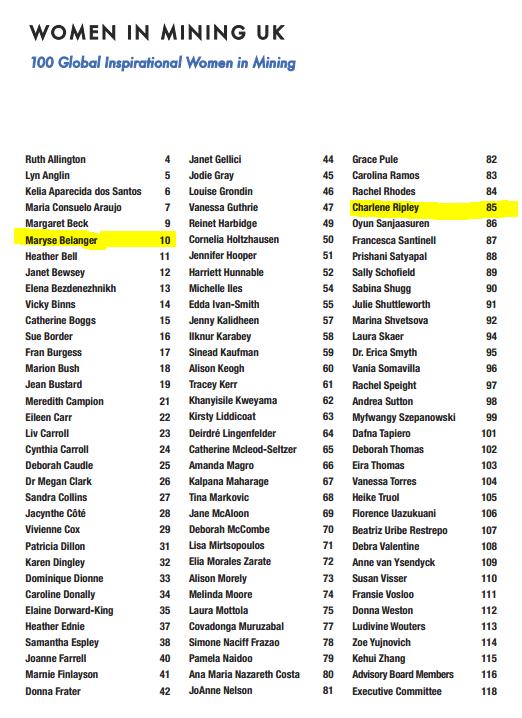 The Global inspirational Women in Mining highlighting  Goldcorp staff.[/caption]
Categories