Inducement and Motivation
Mineral raw materials are essential for the sustainability of modern societies. The access to mineral raw materials is crucial for the sound functioning of the EU's economy. The European Technology Platform on Sustainable Mineral Resources (ETP SMR) established in 2005 and officially recognized in September 2008 unites many stakeholders. In March 2010, the European Commission launched its "Europe 2020" strategy for smart, sustainable and inclusive growths. Parts of this strategy are seven so-called flagship initiatives. One strategy is called "A Resource-Efficient Europe", where raw materials are included. Within the EU, I²Mine is placed in the 7th Framework Programme for Research and Technological Development "Nanotechnologies, materials and production". I²Mine is one of the biggest R&D Projects in the mining industry funded by EU. The project should turn the image of the mining sector from being a 'dirty industry' into high-tec industry. The project consortium comprises 26 partners from the industry, research institutes, universities and association. The term is four years in which the partners will spend about 2200 person months. The project budget is in the range of € 25.5M including a EU contribution of €16M.
Objectives of the project
The European raw materials are deposited in increasingly greater depths. Thus, the mine of the future will exploit mineral raw materials at greater depths than today. Compared to today's deep mines completely different approaches are required, in order to get mineral rights. Only these eco-efficient mines will contribute to improved access to domestic mineral resources, secure the sustainable supply of mineral raw materials for Europe and reduce the import dependency. I²Mine will contribute to realize these concepts of invisible, zero-impact and safe mines. The mine of tomorrow will run an integrated concept in order to guarantee the desired level of sustainability. All operations necessary for the eco-efficient provision of the minerals including waste management will be carried out underground. This will drastically reduce the volumes being transported, minimizing above ground installations and thus the environmental impact. I²Mine will develop necessary innovative methods, technologies, machines and equipment for the safe, eco-innovative, intelligent and economic exploitation of mineral raw materials in the EU.
Objectives at a glance:
Development of innovative methods, technologies, machines and equipment for mining in greater depths

Autonomous, highly selective mineral extraction processes and machinery Gewinnungsmaschinen und -Verfahren

New sensor technologies

Needs for a completely different mine layout

Innovative concepts for mass flow management and transportation

Improved rock mechanics and ground control

New near-to-face processing methods including backfill

Health and safety issues and work environment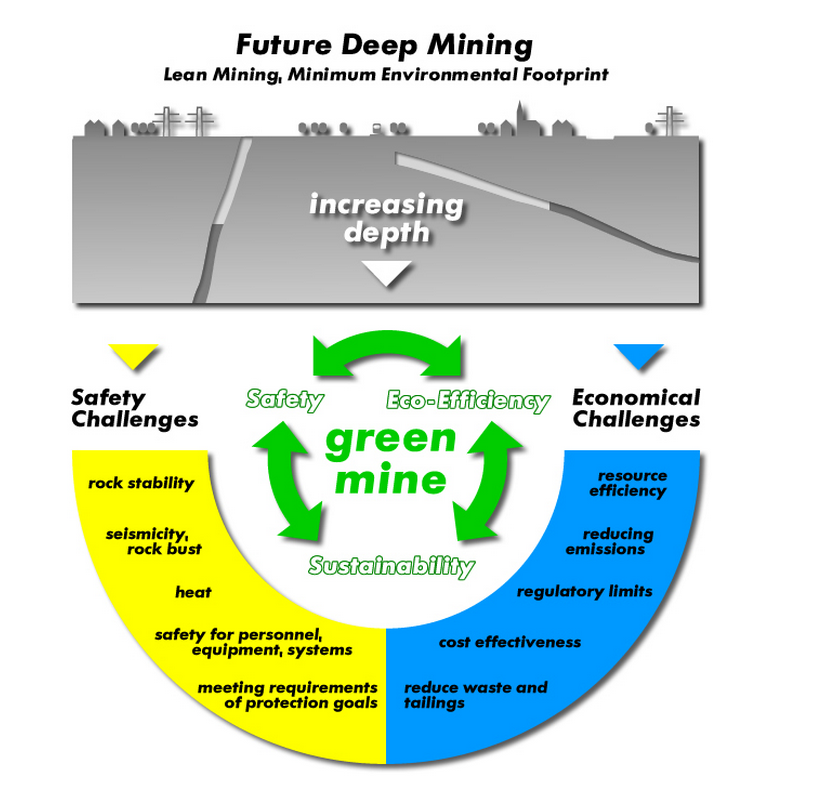 Research activities of Institute of Mining Engineering I in the I²Mine Project
I²Mine is divided thematically into eight work packages (WP):
WP1. Mine wide information and control systems, logistic and mass flow management
WP2. Novel mining and underground processing methods
WP3. Rock Mechanics and Ground Control
WP4. Innovative machinery for deep underground mines
WP5. Application, Demonstration, Validation
WP6. Health and safety and environmental aspects in future deep mining
WP7. Communication, dissemination and societal issues
WP8. Coordination and management
The Institute of Mining Engineering I is involved in work packages WP2 and WP6.
WP2 focuses the development of novel mining and processing concepts in greater depths. A direct one to one application of currently available mining methods at greater depths will not lead to acceptable solutions (e.g. increased subsidence trough and rockmechanical risks of mining methods associated with caving, decreasing extraction rate thus economical limits of regular stoping methods, increasing requirements for ground control and backfill for stoping methods with backfill and pillar extraction, increasing efforts for mass movement from underground to surface, increasing need for reliable and detailed geological data in reply to increasing investment cost, increasing operating cost, etc.), hence a united concept is required. In this connection the Institute of Mining Engineering I deals with near-to-face beneficiation rather mine-to-mill integration concepts. Ideally, the underground waste material can be used as backfill. Consequently, technical concepts have to be developed, as the underground resulting backfill material can be stored safely, efficiently and sustainably. The objective of this subtask is to create a model, in which all mine processes are summed up, as inclusive of near-to-face beneficiation and usage as backfill. cheidung und Nutzung als Versatz.
WP6 is mainly dedicated to health and safety aspects. In this work package the Institute of Mining Engineering I fiddles with the topic "Deep Mine Rescue Management/Systems". The objective of this task is to develop integrated mine rescue systems and concepts, with focus on usage of technology, to rescue miners of a damaged deep mine. Experience shows that mining accidents can never be totally excluded (e.g. San José, Chile). Even if the vision of I²Mine is an unmanned and fully automated mine, underground mining jobs will still exist in the near future. Therefore, appropriate methods and technologies must be developed, taking into account the specific situations of deep mines. The results will be summarized in a kind of best-practice guide and guidelines, which become into force in the case of an "mine accident".
Impact of I²Mine
Increase the productivity of underground activities

Providing for mining and underground operations with (hardly) zero impact on existing surroundings in urban and non urban areas

Contribute to create inherently safe underground workings and operating environments

Strengthen the global competitiveness of the European mining industries

Increase the sustainable access to underground resources in Europe, with the related decrease of EU dependency on resource imports
Further information on this and other projects may be found here.
Categories