The way we make decisions about adopting energy efficient comminution technologies is complex, and there are multiple factors at play.  Depending on the company and individual personalities, the weight of different motivating influences varies between:
energy cost

environmental concerns

improved productivity

lack of energy supply

carbon emissions/pricing

community perception, and

risk avoidance 
All of these provide valid reasons for adopting energy efficient technologies.  However, it is hard to address them all even though many will pull in the same direction. 
The energy curve project has so far concentrated simply on productivity measures such as kWh/t, but the question has always remained: "how will the curves change if energy cost and carbon emissions are included?"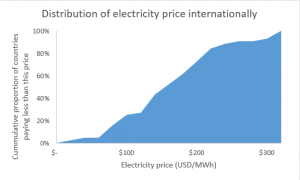 The price paid by a mine for electricity is dependent on the geopolitical jurisdiction (countries/states), local infrastructure and contract negotiations with energy supplier.  An example of this variation is displayed in this graph, showing electrical price data from 44 countries internationally.  The average price for electricity in these countries varies between 2 and 32 USD/MWh with 50% of countries paying less than 150 USD/MWh.
This price variation directly impacts the economic value that can be achieved by companies employing energy efficient comminution technologies. 
There are two examples in the literature that clearly highlight the effect of electricity price on decision making.  Duffy, Valery, Jankovic and Holtham investigated the net present value that could be obtained by replacing cyclones with high frequency screens in a publication at the Third International Future Mining Conference.  They found that if energy savings of 15 per cent or greater were obtained in the ball milling circuit (a reasonable assumption), fine screens would only be justified where the electricity price was greater than 150 USD/MWh.  Ballantyne, Powell, Clarke, Di Trento, Kock and Putland presented a case study into HPGR circuits at the 2016 SME conference.  They found that AngloGold Ashanti's Topicana and Gramalote project showed similar reductions in energy consumption for HPGR-based circuits in comparison to SAG-based circuits.  But the value of this energy reduction was not as great for the Gramalote project because electricity was 3 times cheaper.  Thus, the decision was made to employ a HPGR-based circuit at Tropicana and a SAG-based circuit at Gramalote.
Categories