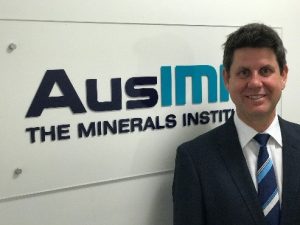 AusIMM is drawing on a diverse panel of industry experts, including CEEC sponsors and patrons, as part of its new Thought Leadership series set to kick off in Adelaide next month.
AusIMM CEO Stephen Durkin (pictured above) said the series was part of a broader celebration of 125 years of AusIMM and would feature industry leaders discussing the future of resources professionals and their role in building our reputation as a world-leader in minerals and mining.
"The events will bring members together as we explore the critical issues shaping the sector," Durkin said.
The great panel line-up includes CEEC supporters EMR Capital's Owen Hegarty (CEEC patron), Ausenco founding director and CEO, Zimi Meka (CEEC sponsor), OZ Minerals CEO, Andrew Cole (CEEC sponsor), Director SMI Production Centres, Alice Clark (CEEC in-kind sponsor) and PwC (principal sponsor of the series). Other panellists include representatives from Roy Hill Holdings, Scorpion Minerals, Battery Minerals, Queensland Resources Council, Whitehaven Coal, Heron Resources, Siemens Pacific, Qantas, Rio Tinto, Mandalay Resources, International Women's Forum, Department of the Premier and Cabinet (South Australia), University of New South Wales, Monash University, and University of South Australia.
Thought leadership events will be held in Adelaide, Bendigo, Melbourne, Sydney, Newcastle, Bathurst, Wollongong, Brisbane, Townsville, Perth, Kalgoorlie and Dunedin.
In response to Alison Keogh's question about what he feels will shape of the future of mining, Durkin reflects on the role that professionals like the panel of thought leaders have in shaping, adapting to change, and steering the future of the mining industry.
"Firstly, I feel we need to get mining companies to collaborate in new and different ways to help build our industry," he said.
"Secondly, I feel that we need to support the mining industry truly embrace a culture of diversity and inclusion to help us better connect to the communities that we work in and help us earn public trust. This is currently a huge barrier.
"Finally, we need our members and industry at large to get behind the reforms underway at their peak body, AusIMM, where we are looking to take a stronger leadership role to be more effective as the trusted voice of resources professionals. If we can mobilise the community of all 65,000 professionals in the resources sector and properly explain the importance of their work, this will mean that we will have a more influential voice and better connect with all of our stakeholders. This is also why we are working hard to build partnerships with the companies that employ these professionals."
Join CEEC directors, sponsors and patrons at the Thought Leadership events. More information here.