"The mining industry has a reputation for being slow to innovate. In mineral processing at least, nothing can be further from the truth."
One of CEEC's founding Directors, Prof Tim Napier-Munn, recently gave the 2016 AusIMM Delprat Distinguished Lecture series addressing this topic. I share with you some excerpts from his summary of this talk, published in the most recent AusIMM Bulletin (February 2017), which can be accessed here.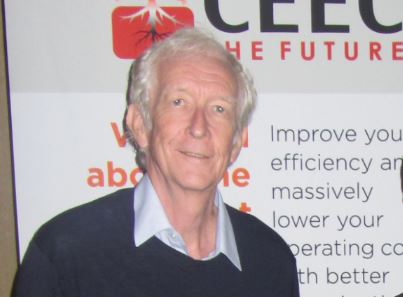 Tim poses an opportunity and a challenge: "Innovation .... needs conditions that allow it to thrive. Such conditions have prevailed in our industry in the past, but I see signs that this is less likely to be so in the future."
He acknowledges the many sources of innovation: "… including equipment manufacturers, engineering companies, universities and public research organisations, corporate laboratories, lone inventors, production staff and other industries. So there is no single magic innovation bullet."
Tim talks of the drivers for innovation, "the Seven C's," including "Crisis, Costs, Cash (Revenue), Competition (mostly between vendors,Compliance (to regulation)"
The significant decline in the Mining Multifactor Productivity Index in the last 15 years paints a troubling picture at least in Australia. Tim identifies six problems limiting innovation in mineral processing: Loss of skills/experience (which in turn reduces the number of students prepared to join an industry which appears not to value its graduates), short-termism, FIFO problems, decay in industry-innovation links, IP protection, and limiting effects of processional silos.
What are the solutions? Here are Tim's suggestions:
Cherish the technical experts and corporate memory, and be mindful of labour reduction impacts

Boards insert into their DNA respect  for the role of technology and innovation in creating shareholder value

Nurture and re-establish industry-innovation links, particularly those between universities and mining companies.

Study FIFO impact on innovation, and devise improvements

Relax precompetitive IP restrictions

Companies and universities encourage dismantling of professional silos to catalyse multidisciplinary innovation.
Tim also poses this challenge to the investment community: Recognise the long-term interests of shareholders, and pressure boards and CEOs to take a longer term view of their technology strategy (where there is one). See article by Chris Dodd of PWC in the AusIMM Bulletin (February 2016) here, which in Tim's view equally applies to investment in innovation.
Tim notes that the VCI Innovation State of Play report (2016) states "Investor perspectives of mining need to shift from innovation being associated with risk to lack of innovation being associated with risk to sustainable returns.", and states "Better that we take charge of our own innovation than have it imposed on us by adverse circumstances."
Join the conversation via the LinkedIn "ceecthefuture" group.
We have some exceptional leaders in our industry and across our networks. Have your say - share your insights. Make a difference and tackle the decline in innovation and the solutions by raising awareness, sharing ideas, leading actions and collaborating.
How do you see innovation? What has enabled innovation to flourish in the past, and what can improve on this in the future?

What do you see as the drivers of innovation?

Are some regions in the world doing better at innovating than others?

Are specific players leading the way in innovation success, and if so, who and how?

How can we nourish the next set of shift-the-dial innovative changes in processing, comminution and mining?

Is collaboration an accelerator to innovation success?