New targets and integrated, digitalised approaches are set to drive step-changes in comminution performance and mining's footprint
The way the mining industry has tackled comminution challenges has changed significantly over the past decade. Many operations are now taking a systems or mine-to-mill approach to process optimisation. Rather than focusing on individual processes, these operations are considering the mining chain from resource through to product and even to the disposal of one or more waste streams. In parallel, operations are integrating the dual strategies of incremental change (continuous improvement) and step-change (innovation) to achieve low-cost solutions now, offset against the investment required to achieve more substantial improvements in the medium to longer-term.
Comminution is a capital intensive process with high operating costs, particularly in terms of maintenance, energy consumption and cost of consumables such as grinding media and liners. Energy required for comminution can account for up to half a mine's operational costs and around 3% of global electrical consumption.
To help improve energy efficiency, lower costs and maximise NPV, the mining industry established the Coalition for Energy Efficient Comminution (CEEC) in 2011. An international, not-for-profit company, funded entirely by sponsorship from industry, CEEC delivers global workshops on energy-efficient comminution, provides free benchmarking tools and helps industry share information to accelerate industry collaboration, improvement and innovation. CEEC CEO Alison Keogh said that CEEC had an extensive global network, comprising more than 15,000 leaders, practitioners and researchers.
"CEEC understands the value of supporting mining industry awareness and uptake of smarter, lower footprint approaches," she said.
"The industry is focused on productivity and value to shareholders. Coupled with this is a strong shift towards more sustainable, productive mining processes. Comminution is often a constraint to how much mineral or metal a site can produce and it's a vital lever to both value and mining's footprint. Comminution can be key to reducing a mine site's energy and emissions, and the technologies employed also play a part in water usage.
"Companies that focus on smarter approaches to comminution can not only maximise productivity and value to shareholders, they can position themselves for better community support and more sustainable value creation in the future."
Current comminution priorities
CEEC network members have identified six key comminution priorities currently being addressed by the industry which work to reduce capital and operating cost. These are:
Use of more energy-efficient equipment such as high pressure grinding rolls (HPGR) and crushers over tumbling mills, i.e. SAG mills and ball mills
Use of more energy-efficient comminution circuit configuration such as ore sorting for early gangue rejection or screening for separation of low-medium grade material for heap leach
Optimisation of the comminution circuit product size distribution to better suit downstream processing
Increased plant reliability and availability using improved planned maintenance strategies such as asset monitoring and pre-emptive maintenance
Adoption of digital technologies for advanced process control as well as machine learning techniques for prediction and optimisation
An appreciation of the entire value chain by better integration and alignment of comminution with upstream blasting and preconcentration processes and downstream separation processes.
The spider (the arch frame) for the primary gyratory installed at Boliden's Kevitsa operation in Sweden. (Photo courtesy of Metso)
CEEC Director Joe Pease said comminution priorities had remained stable over the past five years, although there had been increasing interest in rejection of gangue material at coarser sizes – either up front rejection or generation of the coarser product size.
"This doesn't change the comminution technology itself, but it changes the circuit design and interaction between comminution equipment with size-classification and processing equipment," he said.
Key to implementing these changes are skilled people and a culture that embraces improvement. In Canada, CEEC Advocate and Hudbay Minerals Vice-President Technical Services, Peter Amelunxen, says the education and development of qualified engineers is a priority for industry. He has also seen an increase in companies' appetites to improve, including the use ofmodel/simulator efficacy and accessibility, hardness testing methods and greater industry collaboration.
CEEC sponsor Hatch has found that comminutionpriorities tend to vary in line with the cycles of commodity prices. Walter Valery, Global Director of Consulting and Technology, Mining and Minerals Processing, said three-to-five years ago, commodity prices were low and the main priority was for reduced costs.
"Now, as commodity prices are improving, we see more of a drive to increase production with existing equipment to maximise revenue," he said.
CEEC sponsor Metso has also noted the influence of the economic climate on comminution priorities. Global Consulting and Laboratories Manager Suzy Lynch-Watson said the number one priority during the downturn wasprolonging the life of the equipment, followed by extending the life and reducing the cost of wear parts, running efficiently at lower throughputs, and increasing recovery.
"In other words, the focus has been on getting as much out of the current plant and feed ore as possible for the largest possible return at the lowest possible operating cost and without any capital outlay," she said.
"We are now in the period where some capital needs to be spent (since expenditure was delayed so long) and the focus is once again on higher throughputs, but we are not yet at the point where that equates to spending money on extra installed capacity unless the need is really urgent."
Targets – an impetus for change
Mining companies are setting challenging sustainability targets, and these are an impetus for change.
Greg Lane, CEEC Director and Chief Technical Officer at Ausenco, a CEEC sponsor, sees active projects aiming to reduce water consumption by 50% and energy consumption by 30%. This is an important shift by industry – a recognition that change is needed.
"This will have potential impacts on greenfield projects once these technology approaches become established," he said.
CEEC CEO Alison Keogh has also seen evidence that industry is taking up the challenge to drive down energy and water consumption. Comminution and the approach to processing is key to that success.
"In 2017 the Canada Mining Innovation Council announced a 10-year industry target of 50% reduction in energy, 50% reduction in water and 50% reduction in mining's footprint. In 2018, Anglo American announced its aim to improve energy efficiency, reduce greenhouse gas emissions and reduce freshwater water withdrawal in water scarce areas by 30% before 2030. This is not trivial. These aspirations are driving changes at sites now, and they will significantly change how mining and processing is conducted across industry in future," she said.
"When you take individual processes, improvements in the order of 5-15% are often possible. But when you integrate changes across the mining value chain, that's powerful. Optimising the process can result in much larger gains. Many of those technologies exist today. The targets of 30% to 50% improvement are beginning to look achievable at some sites, and that's exciting for industry's future."
Driving down energy consumption
As a result of this focus on targets, improvements are being made across the mining value chain. Advances in blasting (improved fragmentation), pre-concentration and ore sorting, coarser grind applications (size-based grade engineering, fluidised bed flotation, heavy media separation), replacement of inefficient SAG mills with efficient comminution technologies (such as HPGR), novel/hybrid configurations (AG milling, pebble milling, HPGR circuits) and mine-to-mill optimisation are delivering tangible results.
Hatch Mineral Process Engineering Consultant Kristy Duffy said many comminution circuits could be made more energy-efficient by modifying their design or operating conditions.
"Use of alternative comminution machines, for example, high pressure grinding rolls (HPGR), better utilisation of pebble crushers, stirred mills, less use of AG/SAG mills, and correct selection and operation of classifiers, particularly hydrocyclones, can significantly improve the efficiency of the overall circuit," she said.
"As early as 2002, Valery and Jankovic proposed that combining improved blast design with a comminution circuit using HPGR and Vertimills could reduce energy consumption by more than 40% compared with a conventional blasting/grinding circuit. The energy savings are a result of higher intensity blasting and the high efficiency of the HPGR and Vertimill technologies."
A 'big blast' set against the backdrop of the northern lights at Boliden's Aitik copper mine in Sweden. The pit is 3km long and 450m deep. Big size polygons are being blasted, normally shifting 1 million tonnes per blast with a record of 3 million tonnes blasted. (Photo courtesy of Metso)
Moly-Cop's Head of Innovation Paul Shelley notes that upstream processes (drill and blast, ore sorting and preferential crushing) can deliver an optimum, gangue-free ore carrying an optimum head grade to a ball mill circuit.
CEEC Advocate in Chile and SMI-ICE Productivity Project Lead Romke Kuyvenhoven said although there was an ongoing focus on reducing energy consumption, some operations were also looking at maximising the use of installed power.
"Energy consumption is only part of the story. It is important to have stable energy consumption 24-hours-a-day, which is not currently the case. Peaks should be avoided, which would allow for less installed power and higher average draw at the same time," she said.
Across the CEEC network, METS companies are providing technological and strategic advances to deliver energy and cost improvements. Some of these advances include mine-to-mill, HPGR/HRC, ore sorting and improved data collection and optimisation.
Mine-to-mill
Hatch has a track record in using integrated mine-to-mill strategies to help sites increase production and profitability while minimising costs.
Kristy Duffy said Hatchhad achieved impressive results at Polyus Gold's Blagodatnoye and Verninskoye operations in Russia, increasing production significantly with existing equipment.
"At Blagodatnoye, a 10% increase in throughput was achieved with partial implementation of recommendations, and further increases are expected when implementation is completed," Kristy said.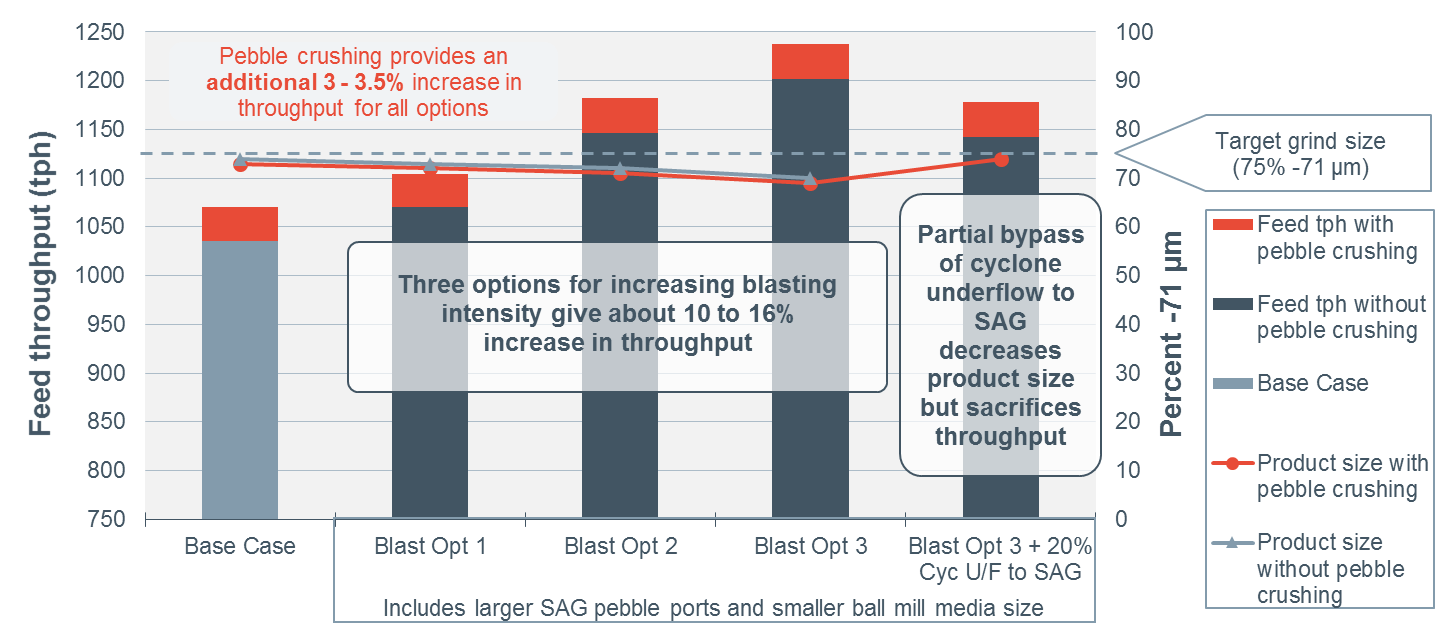 Mine-to-process simulation results for Blagodatnoye (after Valery et al., 2018).
She said that each mine-to-process optimisation project needed to be tailored to the specific operation.
"Successful mine-to-process optimisation of both brownfield and new projects (greenfield design) requires a detailed understanding of the ore types and all processes, mine to plant. This is based on extensive ore characterisation, data collection and analysis, modelling and simulation, which is combined with extensive industrial experience," she said.
HPGR/HRC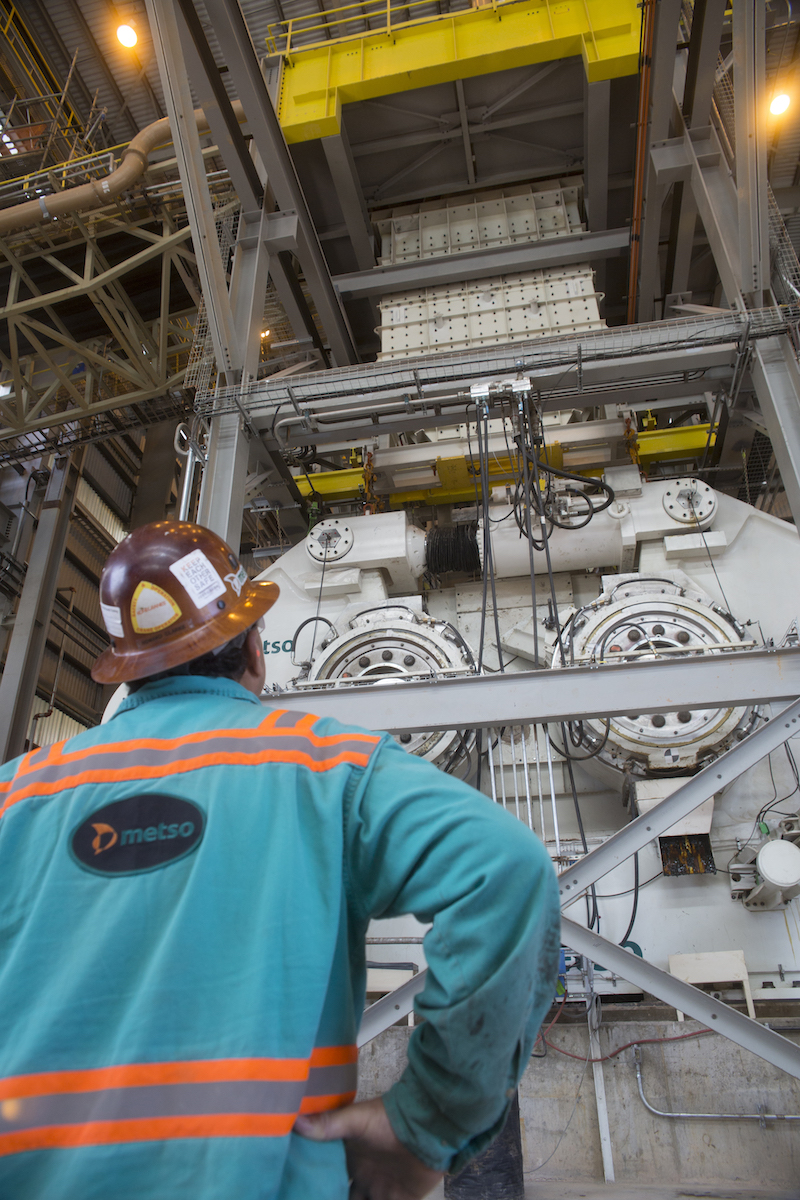 Metso's HRC3000, which is installed at FMI Morenci operation in the United States. (Photo courtesy of Metso)
Metso's Suzy Lynch-Watson said the introduction of HPGR/HRC technology to replace SAG mills in many metalliferous ore operations was gaining traction and bringing down energy consumption in the comminution circuit.
"Ten years ago, the adaptation of the HPGR to hard rock operations was still left up to the few brave pioneers – Boddington, Cerro Verde etc – but these days there have been many to adopt similar or identical flowsheets for similar ores and applications. The issues of performance and wear are becoming more manageable with various innovations, including Metso's HRC – with features such as the flanged roll and hinged mechanism for holding the rolls straight – sure to be a game-changer once it takes more of a hold in the marketplace," she said.
Ore sorting
Suzy said ore sorting processes were also gaining traction.
"This is ore-specific and there are many challenges still to be resolved, including real-time detection of gangue at high tonnages on a loaded belt containing multiple valuable minerals which are detected by different sensors. However huge advances have been made over the past decade and more operations are looking to apply technologies appropriate to their ore type – this includes the Minera San Cristobal / CRC ORE grade engineering production trial using a Metso mobile crusher," she said.
The 'digital mine': improving data collection and optimisation
Digitalisation is an exciting and rapidly developing field in mining, with applications already being applied to create site efficiency and productivity improvements involving comminution. Big data/AI approaches have developed rapidly, delivering a wider range of productivity improvement solutions at sites. Progressively, the industry is connecting the steps across the mining value chain and moving towards the "holy grail" of real-time performance and product optimisation from resource to customer. PETRA Data Science is delivering impressive advances in this space. Technical Director Dr Zeljka Pokrajcic said an example that demonstrated the link between the mineral resource and comminution was the completion of a machine learning project for one of the largest iron ore producers in Western Australia.
"Using two years of historical data generated by the operation across the entire value chain, experts at PETRA used machine learning techniques to track millions of tonnes of ore from the geological block model through blasting, mining and haulage, and crushing and grinding. This information was used to develop artificial intelligence algorithms that predict grinding plant throughput using only geological features," she said.
"This information is very valuable to the operation, it now has a parameter in the geological block model that is an indicator of throughput that can be to be used to optimise the mine plan and scheduling for improved throughput and operability."
Moly-Cop's Paul Shelley said 'digital mine' constructs were forcing miners to remove the variability from comminution.
"Constructs such as AI and machine learning are made considerably easier if the process is already controlled and stable. Operating systems such as LEAN in mining, theory of constraints and process engineering have become a priority. A lot of sensor/firmware/digital analysis start-ups are getting good reception in this space. The mining front-end (blast, mine, haul, drill) is very automated/digitally advanced and the comminution teams are in a catch up phase," he said.
"Consider the processing elements of the circuit (SAG, pebble crusher, ball mill, cyclone cluster, slurry pumping, etc) being digitally linked and sensors providing visibility of the system components and the respective interface. In this environment, the throughput is maximised and circuit optimised such that the total energy consumed is energy of comminution."
Moly-Cop is developing a sensor system for measuring key operating parameters inside mills in real time, in collaboration with an undisclosed industry partner.
"Field pilot trials are under wayand we are very excited by the results we have seen to date. Real time data from inside the mill could provide significant insight into operating a mill, such that it spends more running time in an optimised state," Paul said.
"Sensor tags are implanted into the grinding media. The tags transmit data, while inflight inside the mill, to an electronic receiver via a series of antennas."
Paul said he was unaware of any other business producing data from inside an operating mill.
Addressing water consumption
In addition to improvements in energy consumption, inroads are being made into the reduction of water consumption. These improvements are being driven by a number of new technologies and processes, including dry stacking/filtered tailings, coarse particle flotation, coarse grinding and ore sorting. Most of these efforts are not in the comminution circuit, except for dry processing, but the changes have significant impact on all steps across the mining value chain, including comminution.
Examples of these technologies being implemented on site, Peter Amelunxen says, include filtered tails at Rosemont Project in Arizona, USA, and ore sorting at San Rafael, the world's largest underground tin mine located in La Venecia, Peru. Rejecting waste earlier, and at coarser sizes, can significantly reduce mining's footprint including the energy and water consumed. Grade Engineering®, developed by CEEC sponsor, CRC ORE, aims to quickly identify which sites are most amenable to this approach, and the value that can be harnessed.
The innovative HydroFloat™ technology, developed by CEEC sponsor, Eriez, has potential to significantly cut costs and boost processing efficiency, particularly in relation to grinding energy and media consumption, and capital equipment. HydroFloat™ has a fluidised bed which increases particle contact with bubbles and reduces the turbulent action of conventional mechanical flotation cells. As a result, much coarser particles are able to be recovered with minimal surface area exposure. This technology has been installed in an Australian and a Chilean operation.
CEEC sponsors Goldcorp and FLSmidth are aiming to dramatically reduce fresh water consumption and ultimately eliminate conventional slurry tailings with their jointly developed EcoTails™ process. This technology represents a step-change in water and tailings management. Filtered tailings are blended with waste rock in transit, creating a geotechnically stable product called GeoWaste, and eliminating the need to keep conventional slurry tailings in a containment dam. FLSmidth said the process made mining safer and more sustainable without increasing lifecycle costs.
In Chile, due to the arid conditions, operations have already moved away from using fresh water in comminution, successfully using sea water. Romke Kuyvenhoven said that many sites were choosing desalinated (desal) water sources as these could be more acceptable to the public.
"As far as comminution is concerned, we can go 100% seawater (desal or not). The real challenge appears in flotation," she said.
Although the use of desalinated water enables operations to decrease freshwater consumption, Romke notes that it also presents an environmental risk as the brine produced could affect the marine ecosystem.
CEEC CEO Alison Keogh encouraged miners and METS companies to join the CEEC network and get involved, to tap into sharing of real options to achieve targets. This helps accelerate industry uptake of more sustainable and productive approaches – for all of our futures. Contact Alison Keogh This email address is being protected from spambots. You need JavaScript enabled to view it. or click here for further information on CEEC.