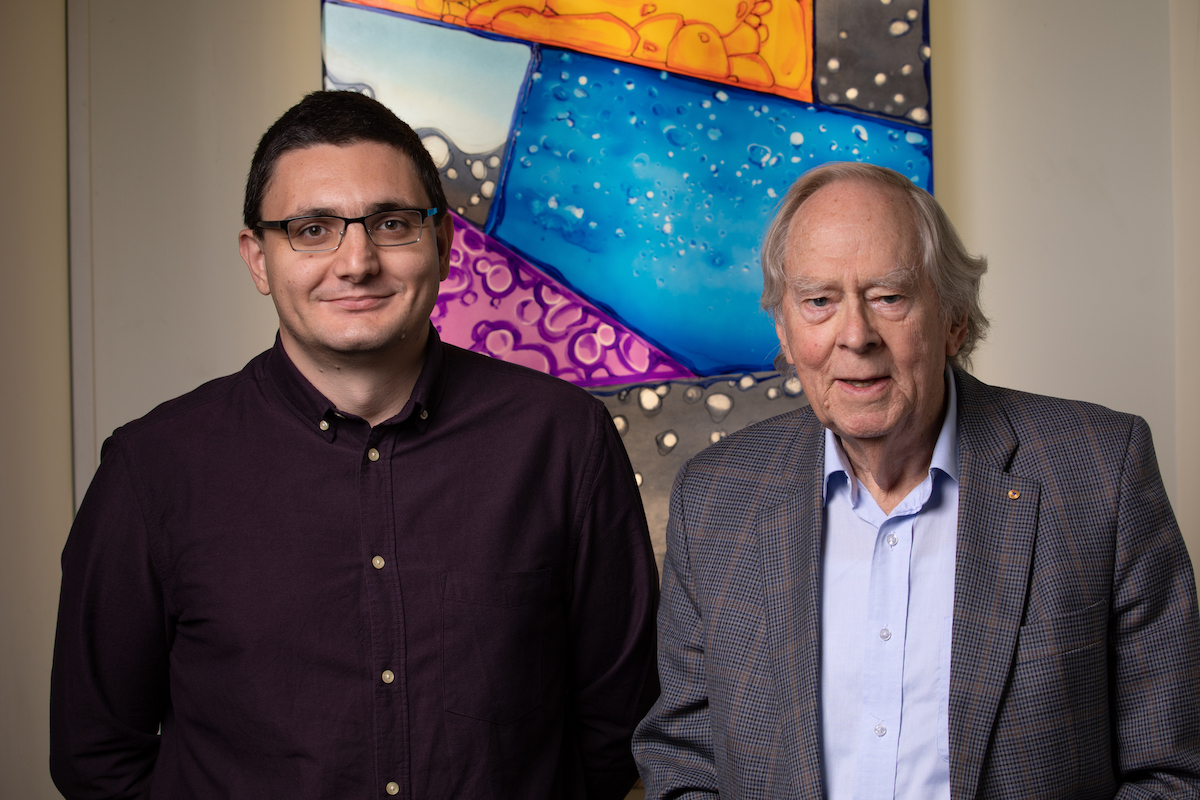 Recipients of the 2019 CEEC Medal for Technical Research, Laureate Professor Graeme Jameson AO (right) and Dr Cagri Emer, from the Centre for Multiphase Processes, University of Newcastle, NSW, Australia.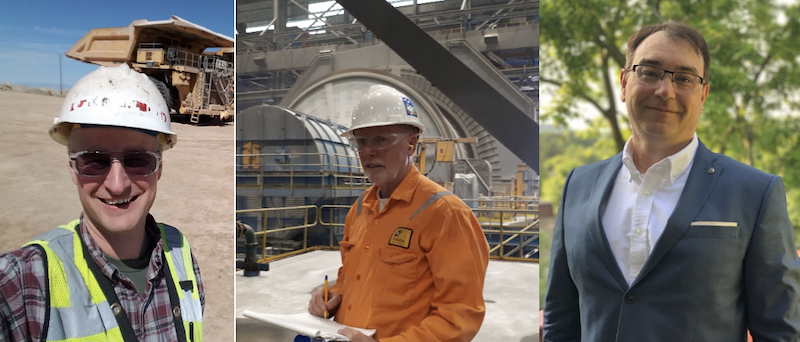 Recipients of the 2019 CEEC Medal for Operations, (L to R) Kyle Bartholomew, Rob McIvor and Omar Arafat from Metcom Technologies, Minnesota, US.
The Coalition for Energy Efficient Comminution (CEEC) has today announced the recipients of its prestigious 2019 CEEC Medals. The CEEC Medal is granted annually to authors of outstanding papers that present innovative approaches to enhancing energy efficiency in comminution and mineral processing.
Dr Zeljka Pokrajcic, CEEC Medal Evaluation Committee Chair, announced that the CEEC Medal for Technical Research was awarded toLaureate Professor Graeme Jameson AO and Dr Cagri Emer from the Centre for Multiphase Processes, University of Newcastle, NSW, Australia for their publication Coarse chalcopyrite recovery in a universal froth flotation machine.
The CEEC Medal for Operations was awarded to Kyle Bartholomew, Rob McIvor and Omar Arafat from Metcom Technologies, Grand Rapids, Minnesota, US for their publication A guide to maximising ball mill circuit classification system efficiency (CSE), for operators and equipment designers.
Dr Pokrajcic said papers published up to 18 months prior to the application deadline were eligible for the award.
"The Evaluation Committee closely considered a number of high quality nominations from leading global industry experts before shortlisting two research papers and three operations papers," she said.
Jameson and Emer's CEEC Medal winning paper was published in Minerals Engineering (134, 118-133) in January this year anddocuments a novel flotation device, the NovaCell. The NovaCell features a fluidised bed for coarse particle collection and a high shear aeration zone for ultra-fines separation. The researchers' case study showed the device resulted in a 40% reduction in comminution energy and a 12% reduction in overall site operating cost.
Dr Pokrajcic said the entry was a clear standout in the Technical Research category, presenting high quality research that was well supported by strong technical information and cost analysis.
"The paper presents a new dual-zone flotation device for both coarse and fine particle separation. It reinforces important developments that are supporting industry's move to coarse particle flotation at scale," Dr Pokrajcic said.
"This work shows leadership in flotation approaches that can significantly improve comminution efficiency and productivity. It also provides a compelling case for the reduction of operating and capital costs by removing coarse size waste in the comminution circuit."
The winning Operations Medal paper by Bartholomew, McIvor and Arafat was presented at the 14thAusIMM Mill Operators' Conference in Brisbane in August 2018.
Dr Pokrajcic said the paper provided a useful methodology for measuring and improving classification efficiency in a grinding circuit, highlighting the importance of classification in comminution circuits to improve efficiency and productivity. The paper's case study measured an almost 25% increase in the generation of new -25 micron material following an increase in ball mill re-circulating load and optimising cyclone performance. The three authors from Metcom Technologies are highly regarded contributors to the field of comminution efficiency, last year publishing (along with Jim Finch) a paper on ball mill classification system optimisation that was Highly Commended by the CEEC Medal judges.
"This year's exceptional CEEC Medal winning paper by Bartholomew, McIvor and Arafat provides a succinct, clear, systematic approach to practical operational improvements that not only helps inform operations of the efficiencies that can be achieved, but also demonstrates the economic case for change," Dr Pokrajcic said.
The 2019 CEEC Medal Evaluation Committee also selected three papers for High Commendation:
High Commendation - Technical Research
Manouchehri's paper presented an adept comparison of the conventional cone crusher and the VSI in a fine crushing duty, and third and fourth stage crushing duty.
"His trials conducted at pilot scale and at laboratory showed the VSI produced more fines, and in some cases product of higher porosity, reducing downstream power consumption," the judges said.
High Commendations - Operations
Advanced mine to mill application at the Barrick Cortez Mine, by Malcolm Powell, Sarma Kanchibotla, Vladimir Jokovic, Marko Hilden, Benjamin Bonfils, Anand Musunuri, Pamela Moyo, Sam Yu, Jace Young, Paul Yaroshak, Emrah Yalcin and Barun Gorain. This paper was presented at the 14th AusIMM Mill Operators' Conference 2018 in Brisbane, Australia.
The CEEC Medal Evaluation judges commented that this was an outstanding paper building on the commonly applied mine-to-mill optimisation where grade deportment and dilution, as well as blast movement during high intensity blasting, is considered and evaluated.
This was an excellent paper detailing the optimisation and debottlenecking of a relatively new mineral processing circuit.
"Efficiency gains achieved through modification to secondary crushing screening, SAG mill lifter design and ball mill charge optimisation enabled the circuit to operate at throughput beyond design," the judges said.
CEEC CEO Alison Keogh praised the CEEC Medal recipients and Highly Commended authors, saying their outstanding contributions help inspire and foster industry uptake of eco-efficient comminution and processing.
"Congratulations to the winning authors Laureate Professor Graeme Jameson and Dr Cagri Emer from the University of Newcastle in Australia, and to Kyle Bartholomew, Rob McIvor and Omar Arafat from Metcom Technologies in the United States."
"The CEEC Board thanks the successful authors and each of the nominees for their important research efforts and case studies. These publications, shared widely via CEEC's global network, provide tangible value by helping operators, researchers and METS companies take steps to operate more efficiently while reducing their energy usage, footprint and costs," Ms Keogh said.
To view the abstracts click on the links above. To find out more about the CEEC Medal visit www.ceecthefuture.org/ceec-medal.