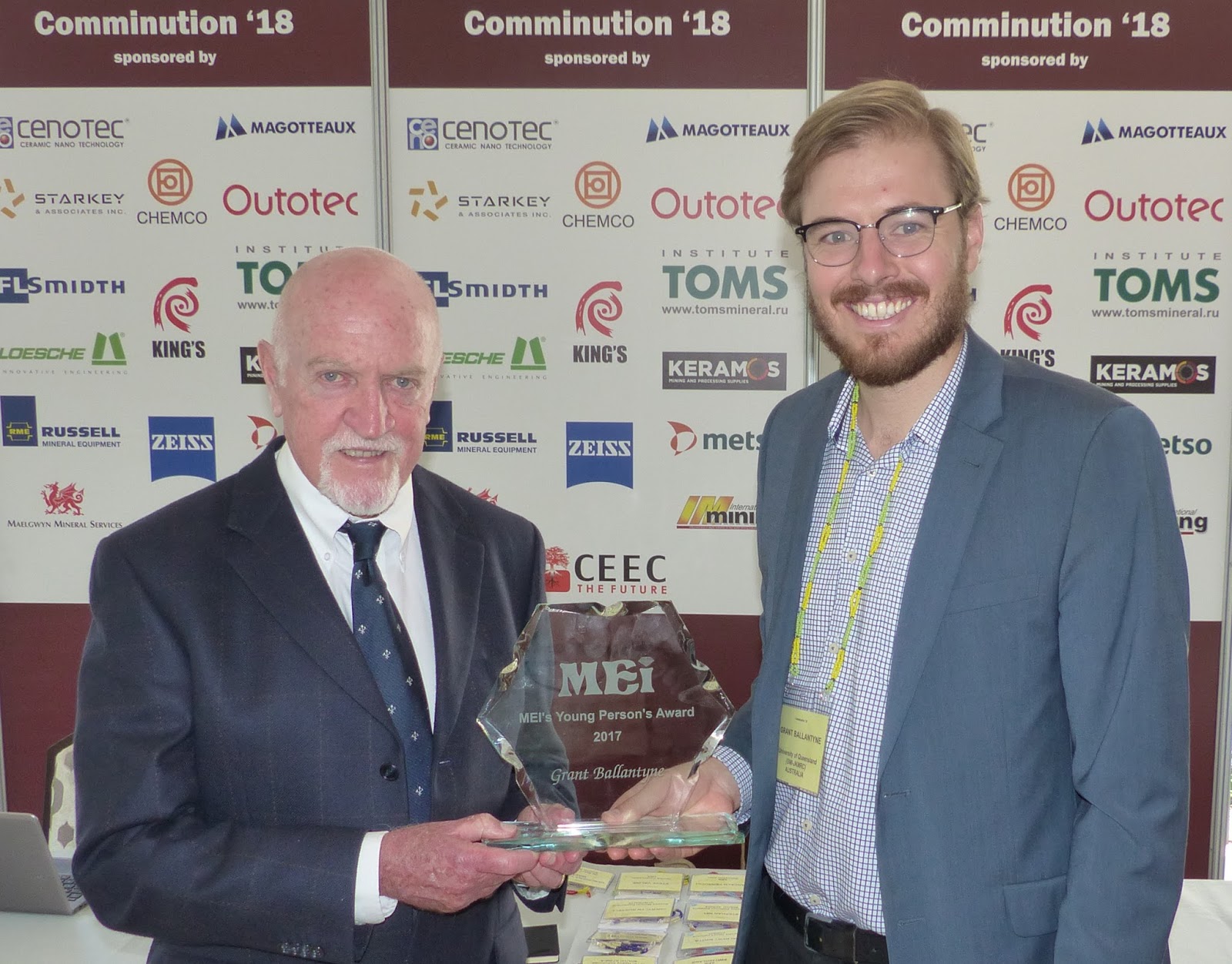 MEI's Barry Wills presents Dr Grant Ballantyne with the 2017 MEI Young Person's Award.
Congratulations to JKMRC Senior Research Fellow, Dr Grant Ballantyne, who was presented with the 2017 MEI Young Person's Award at Comminution '18 in Cape Town earlier this month.
Grant has an ongoing and collaborative relationship with CEEC, having played the principal role in the development of the CEEC energy curve suite of tools. Hosted on the CEEC website, the curves enable mining companies to benchmark their energy performance against similar operations worldwide and to strive for best practice. The mines are able to contribute anonymously to the database on which the tools are based and which presents the energy intensity of each mine in a graphical form, similar to a cost curve.
In presenting the award, MEI's Barry Wills said Grant was an accomplished, enthusiastic member of the mineral engineering community.
"In his short career, Grant has made a significant mark on his profession, produced research results of acknowledged benefit to the industry, and built an international network of collaborators," he said.
CEEC CEO Alison Keogh congratulated Grant on his award.
"Grant is driving change and helping the mining industry to find solutions to its most energy-intensive activities," she said.
"CEEC is proud to work with such a passionate, energetic researcher who has an understanding of energy efficient improvement opportunities. His work on the energy curves helps mining and METS companies to deliver business value by benchmarking and improving comminution energy performance."
Grant was nominated for the MEI award by a team of comminution leaders, including former CEEC Director, Professor Tim Napier-Munn (Emeritus Professor of UQ), CEEC Chair Joe Pease, Evert Lessing (Weir Minerals, a CEEC sponsor) and Aidan Giblett (Newmont Mining Corporation, CEEC Medal winner).
Newmont's internal comminution subject matter expert, Aidan Giblett, acknowledged Grant's expertise.
"I have sought Grant out in many instances to solicit his opinions on comminution circuit performance analysis and will continue to do so as we seek to adopt the methods Grant has developed for the mining industry, both in Australia and abroad," he said.
AngloGold Ashanti's Chief Metallurgist, Nick Clarke, acknowledged Grant's work for the company's Sunrise Dam gold mine in Western Australia. The work "identified improvements of direct economic benefit as well as being the basis for two publications presented at international conferences, one of which was runner-up for the CEEC Medal. Continued cooperation with AngloGold Ashanti led to further publications on energy efficiency with particular reference to high pressure grinding rolls," he said.