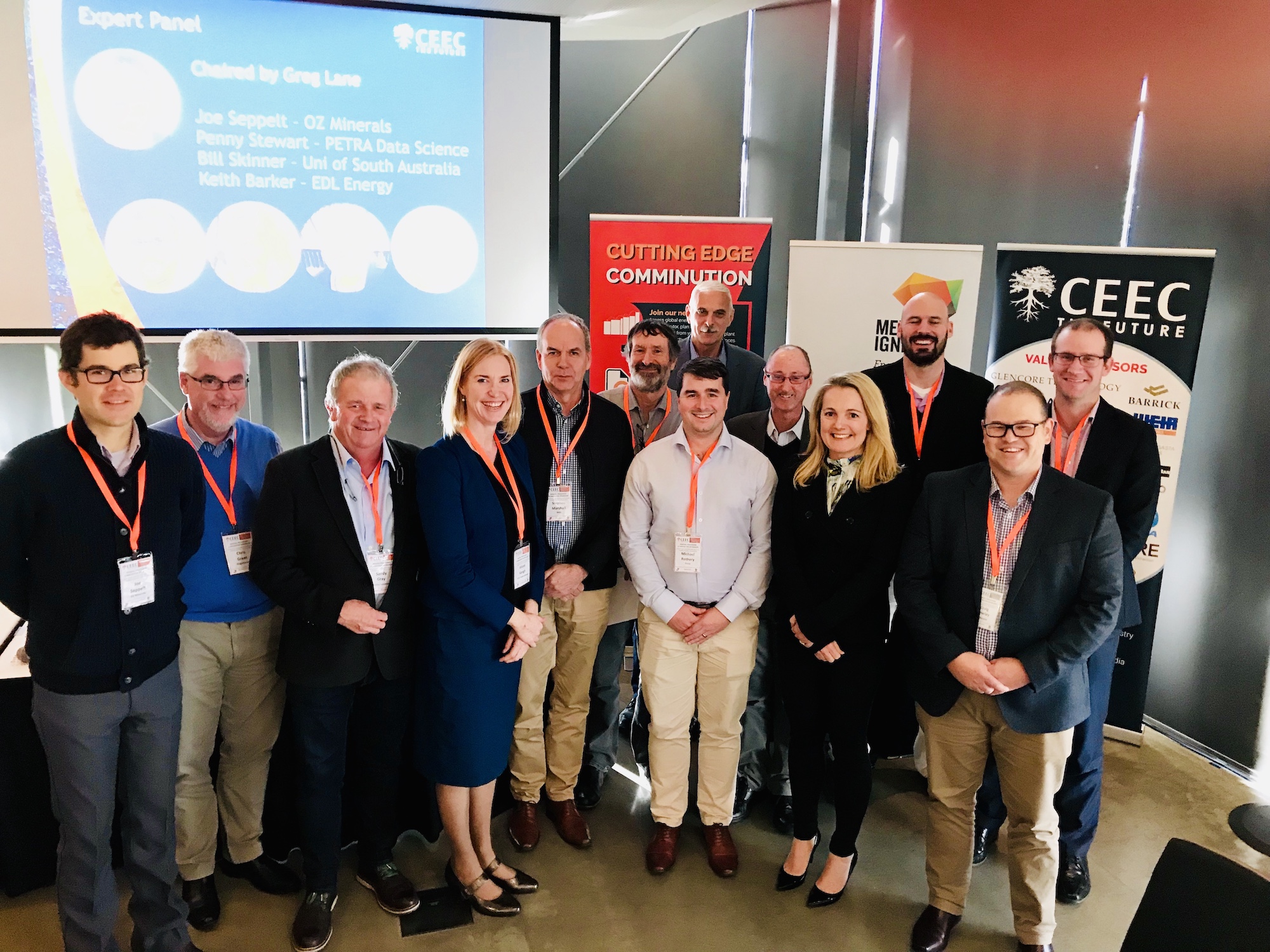 The CEEC Adelaide workshop in June attracted many sponsors as participants, speakers, panellists and workshop committee members. Pictured (L to R) are Joe Seppelt, OZ Minerals; Chris Greet, (workshop committee and Magotteaux); Sandy Gray, Gekko Systems; Alison Keogh, CEEC; Stephen Marshall, Weir Minerals; Greg Lane, Ausenco; Michael Rothery, Orica (and former CEEC Medal winner); Mark Johannessen, CEEC Project funder METS Ignited; Paul Shelley, Molycop; Penny Stewart, PETRA Data Science; Michael Myllenen, (workshop committee and Magotteaux); Craig Bewley, FLSmidth and Matthew Voigt, Molycop. Other sponsors, not pictured, included speakers Andrew Cole and Steve McClare, OZ Minerals, and Duncan Mallord, Hatch.
The CEEC Mineral Processing and Innovation workshop in Adelaide, South Australia, on 19 June, was hailed as one of the best yet, shining a spotlight on renewable energy projects and emerging technologies as well as sharing practical options for enhancing energy efficiency and productivity.
CEEC Director Joe Pease said many attendees were surprised by the latest developments in renewable energy generation and storage and the cost competitiveness of hybrid installations at remote mine sites.
The full day workshop ignited engaged, interactive discussion on how to apply Energy Curves, productivity and energy efficiency improvement ideas, and the latest developments in new gen energy supply. A recurring theme from participants was support for stronger collaboration to advance energy- and water-efficient solutions and maintain environmental and social licence to operate.
As well as energy experts – Keith Barker, EDL Energy; Richard Webster, SA Department for Energy and Mining; and Alfonso Chinnici, The University of Adelaide – the event featured presentations and panel contributions from mining leaders Andrew Cole and Steve McClare, OZ Minerals. A strong line-up of comminution and processing luminaries were also on the bill: Penny Stewart, PETRA Data Science; Enzo Artone, BHP; Rob Dunne, Bear Rock Solutions; Sandy Gray, Gekko Systems; Joe Seppelt, OZ Minerals; Greg Lane, Ausenco; Bill Skinner, Future Industries Institute, University of South Australia; AusIMM President Janine Herzig; Joe Pease, Mineralis, and Marcin Ziemski, University of Queensland.
Proceedings kicked off over breakfast with a keynote address from OZ Minerals CEO and MD, Andrew Cole. Andrew's inspiring presentation on Building a Smarter Energy Future emphasised the need for a collaborative approach to address challenges and plan for uncertainty.
"I see this as a cultural challenge, not a technical challenge. I would argue that we need to build our culture, systems, relationships and how we work to be able to pivot quickly. So, it's not technical knowhow, but culture that allows us to adapt."
One problem was that mining companies don't generally collaborate, he said.
"Our industry needs to build our brand and work together, or we are in trouble. We need to do more together as an industry, rather than individually as a company."
Andrew shared how OZ Minerals was unlocking value through an Energy and Mining Collaboration with The University of Adelaide, CSIRO, SA Department for Energy and Mining, Rocky Mountain Institute, SunSHIFT and Tonsley Innovation Precinct. The collaboration's first project is to trial a hybrid energy generation solution facility at the Carrapateena Copper-Gold project, 160km north of Port Augusta, in an area separate from the operating plant and mine, demarcated for piloting and prototyping.
The trial 250 kW hybrid energy solution facility will include solar, wind and a lithium ion battery. It will be integrated with a diesel power plant, demand management technologies and an electric light vehicle charging station to allow the ongoing testing of energy hypothesis.
Construction of the hybrid energy solution facility is expected to take place in the first half of 2020, and the Energy and Mining Collaboration aims to create a broad membership, open to all who want to participate – establishing a true partnership model that fosters collaboration towards shared goals in the mining industry and beyond; unlocking transformational value.
"Anybody is welcome to test, trial and pilot new technologies at the Carrapateena site, as long as they share the results," Andrew said.
Richard Webster, Principal Industry Development Officer, Energy Implementation, South Australia Department for Energy and Mining, provided an overview of the rapid growth in wind and solar energy in South Australia.
He said close to $15 billion was being invested into renewable energy in the state. Projects under construction or development comprised: 2700 MW of wind power, 4700 MW of utility solar PV, 1500 MW of battery storage and 1400 MW of pumped hydro.
Competitive energy costs and decarbonisation goals were prompting miners to "dip their toes" into renewables, Richard said, adding that grid interconnectivity and storage were important to overcome issues around reliability and security.
Principal Research Scientist and Research Manager at The University of Adelaide Centre for Energy Technology, Dr Alfonso Chinnici, gave an exciting glimpse into the potential for concentrating solar thermal energy in mining and off-grid applications.
He shared how concentrated solar thermal (CST) could be hybridised with combustion to produce concentrate from ore, combined heat and power, and direct process heat.
Potential benefits included reducing capital costs by up to 50 percent, firm supply, continuous production 24/7, improved efficiency, and increased solar harvesting.
Alfonso also shared emerging particle technologies to concentrate solar thermal energy and produce steam or hot air. In remote sites this technology has the potential to deliver safe, reliable and robust energy, with high storage capacity.
He said the University of Adelaide had formed a partnership with Magaldi Power in Italy to work on solar enhanced comminution. This incorporates STEM beam-down solar particle technology and a solar powered conveyor belt for thermal pre-treatment of ores to reduce grinding energy use. Commercial trials were three to five years away, or one to three years with the right end user, Alfonso said.
Keith Barker, EGM Technology/EDL Energy, shared the current application of renewables in off-grid applications. He presented several case studies on mine sites and communities successfully using hybrid energy supply. In many cases, these plants are delivering reliable supply at lower cost than diesel generators.
The pace of change is rapid in the new gen energy supply field, and Keith also shared the same-day announcement of the greenfield energy solution for Goldfields' remote Agnew gold mine in Western Australia, which highlights the rapid pace of change in the new gen energy sector.
In an Australian first, the project will utilise wind generation as part of a large hybrid microgrid in the mining sector. Stage 1 includes a 23 MW power station including gas, diesel generator and PV solar. Stage 2 will incorporate five wind turbines generating 18 MW, plus 13 MW of battery storage.
Keith said the project would provide the mine with greater than 50% renewable energy over the long term, without compromising power quality or reliability.
Steve McClare, OZ Minerals General Manager West Musgrave and Chief Technical Officer, spoke about Adapting to a Changing Energy Environment. He shared how the combination of renewable energy, storage and government subsidies could potentially reduce the cost of energy for remote mines.
Steve explained that managing load profiling was critical, if intermittent renewables approach 50 percent of supply. While 97 percent of all storage globally is pumped hydro energy storage (PHES), this method only accounts for two percent of storage in Australia. However, he said Australian mines could replicate a steep environment that enabled a natural advantage for PHES.
The presentation also provided insights into how PHES was evolving, with variable speed technology allowing progressive precise storage to cope with extreme volatility and minimise curtailment.
Joe Pease said Steve's presentation provided a fascinating insight into how the combination of energy storage and government subsidies could reduce the cost of energy below conventional power for remote mines.
Rob Dunne and Ted Bearman, Bear Rock Solutions, provided a presentation on Increased Integration of Technology and Drivers.
Rob said process technology was potentially moving to a world where comminution and preconcentration are so intertwined as to be inseparable.
"The ability to tailor size distributions and treatment circuits to suit the strength of the unit processes should be prioritised, not forcing units to treat sub-optimal streams," Rob said.
"If selectivity in coarse processing can better target energy to useful work, the ability to reduce unnecessary and wasteful treatment of gangue is significant."
In a hands-on session, Dr Cathy Evans, Sustainable Minerals Institute, The University of Queensland, walked participants through how to benchmark comminution energy consumption using CEEC's free Energy Curves tools. She provided six case studies to show the many different approaches to improving energy efficiency in processing, demonstrating how Energy Curves can help identify and support different operational options.
She discussed the growing industry uptake of Energy Curves and the recent enhancements to them which have been funded by METS Ignited and the Queensland Government in partnership with CEEC.
Cathy advised workshop participants of the importance of looking at the whole production chain to reduce energy, rather than focusing purely on the grinding mills. Better classification, such as replacing cyclones with screens, could allow a coarser grind size, she said.
Studies of "whole streams" showed that in some cases using more energy in grinding saved much more energy in smelting by reducing impurities in concentrate that otherwise would have to be melted out.
CEEC CEO Alison Keogh said this concept of value chain and mine-to-mill optimisation (and beyond) to add value, productivity and energy efficiency was a common theme in CEEC Medal-winning research and more broadly across the literature that CEEC shares.
Several speakers, such as Andrew Cole, Enzo Artone (BHP Olympic Dam) and Sandy Gray (Gekko Systems) commented that value could be found in "old ideas", for example the renewed interest in coarse upgrading and coarser grind size, which were both practiced decades ago at Bougainville Copper. These practices were overtaken by "bigger is better" in the era of low cost energy and water, but are being revisited to optimise value or due to restrictions from lower grade feed or energy, water and tailings disposal.
Greg Lane, Ausenco, compared the energy requirement of dry versus wet grinding. Dry crushing/grinding itself is more energy efficient, although it uses more energy for classification and dust collection.
"So we have more efficient comminution technologies, but questions remain on wear life, robustness, dust handing and the ability to handle site variations," he said.
Dr Penny Stewart, PETRA Data Science, discussed the rapid uptake in use of machine learning and digital twin models to improve decision making. She shared a successful case study for an operating SAG mill and noted that success didn't just hinge on automation.
"It can be about training and advising operators so they see problems coming and make better decisions to avoid them," Penny said.
Bringing the day's learnings together, Greg Lane chaired a lively panel discussion with Keith Barker, Joe Seppelt (OZ Minerals) and Prof. Bill Skinner (University of South Australia). The panel presented their thoughts on the real-life application and approaches to the technologies presented at the workshop and how the industry can foster stronger uptake of improvements and innovations. They also proposed practical ideas and examples of better collaboration between miners, METS and researchers.
Workshop presentations from Andrew Cole, Steve McClare, Keith Barker, and Richard Webster can be viewed on the Resource Centre page of the CEEC website.
CEEC thanks all speakers, panellists, organisers, sponsors and participants for contributing to a successful workshop in which important cutting edge insights were shared. We would like to extend a special thanks to the organising committee who volunteered many hours of their time in addition to their existing workload to make the event a success. Our sincere thanks to Joe Seppelt (OZ Minerals), Chris Greet and Michael Myllenen (Magotteaux), Greg Lane (Ausenco), Zeljka Pokrajcic (PETRA Data Science), and CEEC's Alison Keogh and Lindel Greggery.
Thanks also go to our valued sponsors and our funding partners METS Ignited and the Queensland Government for their generous financial support to fund the workshop and other CEEC activities. CEEC's sponsors are visionary leaders helping drive positive industry change: Anglo American, Antofagasta Minerals, Ausenco, Barrick Gold, CRC ORE, Eriez, FL Smidth, Freeport McMoran, Gekko Systems, Glencore Technology, Hatch, Lundin Mining, Molycop, Newmont-Goldcorp, Orica, Oz Minerals, PETRA Data Science, Sandvik, Teck Resources, TOMS Institute, Weir Minerals and Wheaton Precious Metals.