Ore sorting is increasingly being incorporated into plants globally to enhance mining and comminution outcomes. Early rejection of waste in operations can significantly improve economics and reduce power consumption. Combined with other productivity measures targeting comminution and mineral processing, step-changes in processing and resulting value can be unlocked.
[caption id="attachment_7139" align="alignleft" width="381"]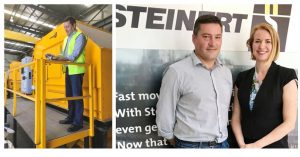 Steinert MD Johan van Zyl with CEEC CEO Alison Keogh visiting Steinert's facilities in Australia[/caption]
CEEC Sponsor and innovator Steinert recently showed CEEC CEO Alison Keogh through Steinert's facilities and discussed recent advancements.
UPCOMING OPEN DAY: VIEW ORE SORTING For anyone interested in seeing this technology in action, Steinert Australia will hold a demonstration day at its Melbourne premises on 2nd June. Register here if you would like to attend. The demonstration day is being held in conjunction with the Curtin University Ballarat Gold Symposium.
ORE SORTING APPLICATIONS AND INSTALLATIONS
In viewing Steinert's facilities, CEEC was shown ore sorting of coarse material, with Steinert current configurations sorting material ranging from 10mm to 150mm diameter. Ore sorting is a value-adding early-stage option which can divert unwanted waste. Advances have been demonstrated in a range of commodities such as Cu, Au, Pb-Zn and iron ore. Different scanning options can be used or combined, including XRT, laser, optical, and electromagnetic methods.
When CEEC asked where installations are occurring, Steinert MD Johan van Zyl stated "We have fixed installations and mobile plants in the mining fields of Kalgoorlie and North Queensland in Australia. There is also strong interest for sensor sorting equipment in the mining industries of the Philippines and Mongolia, with current testwork under way for such commodities as gold and coal where water usage is an environmental issue."
Pictured above is Steinert Australia MD Johan van Zyl, illustrating how this x-ray sensor sorting unit – the STEINERT XSS – takes in coarse material, then delivers two resulting sorted products into conveyor or hopper streams. This equipment has been installed at a large number of operations worldwide and Steinert noted to CEEC that it has been demonstrated as an effective early-mining value chain ore sorting option in commodities such as gold, copper, tin, tungsten, coal, precious stones, manganese and nickel, just to name a few.
ORE SORTING ECONOMIC BENEFITS – CASE STUDY & FURTHER INFORMATION
Steinert's published work has also demonstrated quick payback periods and high potential for simple, economic concentration of low-grade stockpiles. For example, at the Norseman low-grade stockpile, the technique enabled low cost retreatment of gold grades at 0.66% g/t gold to produce an output stream at 1.5% g/t gold grade, with a mass reduction of 85%, providing a cost-effective means of extending resource life and adding value to existing operations.
Ore sorting information is available from CEEC's and Steinert's websites:
Read more here for further information on this case study at Norseman.

Click here for the abstract publishing this Norseman work including assessment of its economic impact and viability, uploaded to CEEC's website with kind permission from The AusIMM following its 2016 Mill Operators Conference.

Additional abstracts are available on ore sorting at CEEC's Resource Centre.
It's not often that I come across a company of over 125 years that is actively and strongly innovating, and it's good to see that Steinert is driving the conversation and leading and contributing to positive developments in the industry, using knowledge of its magnetic separation and sorting technologies from a range of industries. Thanks to the team at Steinert for sharing their knowledge and collaboration, and continuing to lead advances that help the mining sector in its quest to improve and innovate.
To share your ideas and case studies, contact CEEC at This email address is being protected from spambots. You need JavaScript enabled to view it.
CEEC thanks its valued sponsors who enable us to host the CEEC website and receive and share information on advances in comminution and complementary technologies globally:
Anglo American, Antofagasta Minerals, Ausenco, Barrick Gold, Bechtel, CITIC-HIC, CRC Ore, Donhad, FL Smidth, Freeport McMoran, Gekko Systems, Glencore Technology, Goldcorp, Hatch, Metso, New Gold Inc, Orica, Oz Minerals, PETRA Data Science, Sandvik, Steinert, TOMS Institute and Weir Minerals.