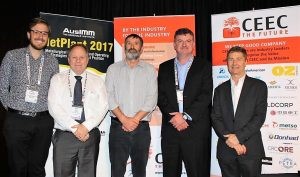 CEEC has proudly celebrated outstanding comminution excellence at MetPlant 2017, with CEEC Chair Joe Pease formally presenting Newmont's Aidan Giblett with his CEEC Medal. Fellow 2017 CEEC Medal winner, Newmont colleague and co-author Steve Hart was also proudly acknowledged.
Aidan Giblett and Steven Hart from Newmont were previously announced as the 2017 CEEC Medal winners in the operations category for their outstanding and inspiring work. The pair won the CEEC Medal for their paper: "Grinding Circuit Practices at Newmont", which was delivered at the AusIMM's Mill Operators Conference in 2016.
The paper highlighted the company's approach to improving grinding practices across 12 of its operations worldwide, sharing learnings with colleagues and sites globally, and inspiring and informing them of the many opportunities available. An exceptional contribution to the global mining industry's body of knowledge, the paper provides practical solutions and clear guidance on how to improve productivity and efficiency at site, reducing risks and improving performance.
Alongside the contribution from Giblett and Hart of Newmont, winners in the research category of the 2017 CEEC Medal published work conducted at the University of Queensland's Sustainable Minerals Institute, at the JKMRC. Fengnian (Frank) Shi, Weiran Zuo and Emmy Manlapig – won the technical research category of the CEEC Medal for their paper: "Pre-concentration of copper ores by high voltage pulses. Part 2: Opportunities and challenges", published by Minerals Engineering in 2015.
The CEEC Medal is a prestigious annual award for the most outstanding published papers, articles or case studies that profile energy-efficient comminution and mineral processing strategies. Nominations are reviewed by the CEEC Medal Evaluation Committee for applicability, supporting research and documentation, prospective impact, potential energy savings, and presentation style. This year a record number of nominations were received and the competition was extraordinarily high. Nine of the 18 papers were potential winners.
At the MetPlant 2017 Conference, CEEC Chairman Joe Pease also assisted conference convenor Janine Herzig to present the two conference award presentations for "Best Paper" and "Best Presentation". These were presented to Dr Grant Ballantyne for best published paper and PhD student Juan Jose Frausto for best paper presentation at MetPlant 2017, highlighting the strong pipeline of talent bringing inspiring new opportunities for our industry.
CEEC is proud to have the opportunity to celebrate these outstanding and inspiring achievements. CEEC sincerely thanks the AusIMM and convenors of MetPlant 2017 Janine Herzig and David Pollard for supporting CEEC to attend and present the 2017 CEEC Medal, and all others involved in organising, sponsoring, attending and presenting at this excellent event.
PHOTO (Above right): MetPlant 2017 Conference award winners Dr Grant Ballantyne (best paper) and Dr Juan Jose Frausto with former CEEC Medal winner Greg Lane, 2017 CEEC Medal recipient Aidan Giblett and Joe Pease (fellow 2017 CEEC Medal winner Steve Hart not present).