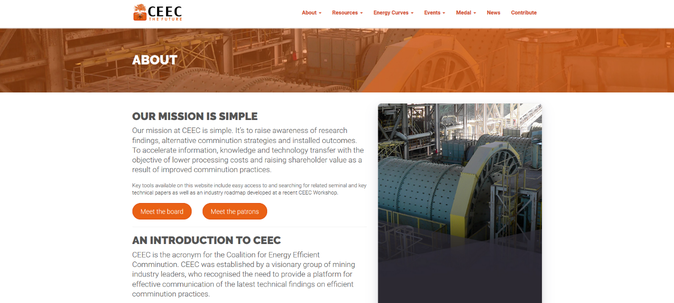 CEEC is proud to announce the launch of its new and improved website – providing a key communication hub to support industry innovation and value-enhancing improvements.
The revamped site provides secure and easy to access information on the latest advances in comminution and energy efficiency in mining and minerals processing.
The streamlined, free website continues to share information on the latest CEEC news, global events, CEEC workshops, the energy curves, and hundreds of peer-reviewed, published research papers. In one click you can access more than 50 case studies showcasing some exceptional work in comminution energy efficiency improvements. You can also pick up improvement tips by scanning the abstracts from CEEC Medal winners and short-listed papers.
Want to keep up-to-date with what's happening at CEEC? Mineral processing advances, energy improvement and inspiration are just one click away. Visit CEEC here to find out more.
Share your contribution or let us know what you think of our new site This email address is being protected from spambots. You need JavaScript enabled to view it..