CEEC's CEO, Alison Keogh, recently visited Gekko's manufacturing facilities in Ballarat, Australia to see first-hand some of the energy-efficient technologies that Gekko offers to its clients worldwide.
Developing technologies for pre-concentration, gravity separation and other energy efficient processes are the focus at Gekko.
[caption id="attachment_7176" align="alignleft" width="285"]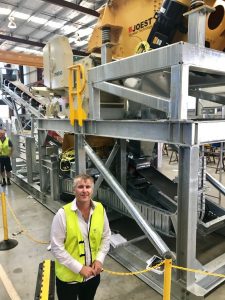 Pictured here: Nigel Grigg standing alongside Gekko's Python plant.[/caption]
2015 International Mining Technology Hall of Fame inductee and 2016 AusIMM Professional Services Award recipient Sandy Gray mentioned to CEEC that Gekko is concentrating on a number of comminution technologies, including the Vertical Shaft Impactor, designed to liberate minerals while optimising power consumptions. Gekko is also setting bold targets to reduce power consumption and is focusing on low-height modular design to significantly reduce the energy requirements and streamline freight in standard shipping containers.
The clear advantages of modular plant design are a strong topic of interest for both mining and METS companies, as it can offer rapid delivery and installation and simpler technology upgrade options.
2015 CEEC Medal winner Nigel Grigg showed CEEC Gekko's Python technology (pictured) which is a low-height, containerised modular plant. The Python mineral processing plant is especially suitable for remote locations due to its unique modular design. It can help miners employ energy-efficient comminution, gravity separation and flotation processes to reduce the ore to a coarse size, which further reduces the downstream processing energy requirements and costs.
This Python plant was built and factory commissioned for the Hope Bay project located in Canada, to be delivered to the remote environment in the Arctic Circle. Viewed by CEEC in late January 2017, this plant was completed, delivered and commissioned in a rapid time frame.
CEEC notes that production has recently commenced, with first gold pour in March 2017, followed by TMAC Resources announcing commercial production on 15th May 2017. TMAC Resources state that their processing plant has now operated at an average in excess of 60% of its 1,000-metric-ton-per-day (mt/d) nameplate capacity over a 45-day period, and at an average of more than 80% of capacity from 4th to 15th May, and throughput rates are continuing to ramp up.
This particular Python has a 55tph capacity. Pictured below is the front end crushing module which incorporates a screening jaw crushing step. This product feeds 2 x Vertical Shaft Impactors before being processed by Gekko's Inline Pressure Jig (IPJ) followed by flotation to produce a high grade gold concentrate.
CEEC thanks Gekko Systems staff and acknowledges TMAC's news release sourced from here.
Do you have an installation success story or development that is enhancing productivity or breaking new ground? CEEC would like to hear of case studies of success. CEEC is pleased to celebrate mining and METS advances in mineral processing, comminution, energy efficiency and productivity initiatives. Contact This email address is being protected from spambots. You need JavaScript enabled to view it. with your case studies and stories of improvement so that we can continue our work to share this knowledge.