CEEC is proud to announce an exciting milestone in the continued growth in the Global Energy Curve Programme. The Energy Curves database has now grown to over 30% of global gold production, comparable to the majority of the large-scale Western gold mining operations. Attracting strong interest from mining and METS companies globally, it also now contains 58% of global copper production, as well as many other mined commodities. This 30% world gold milestone now cements CEEC's Energy Curves Programme as the global leader in energy benchmarking for many major mined commodities.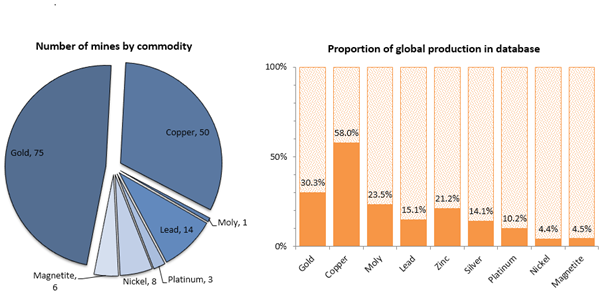 Focusing on the typically most energy-hungry mechanisms of crushing and grinding of rocks (comminution), the Energy Curves are a valuable tool to help start the energy conversation.
CEEC Director Ivan Mullany said from his base in North America "This 30% world gold milestone illustrates the momentum and interest that the CEEC Energy Curve Programme has created globally. The unique, free tools exist to help companies to confidentially compare and benchmark their data and implement their own strategies for success."
Decision-makers, executives, technical leaders and innovators around the world are using the Energy Curves to help identify and implement substantial multiple incremental and step-change improvements and innovation, with commensurate productivity and energy efficient gains. The simple visual Energy Curves drive a shared understanding across companies at all levels.
CEEC Director Zeljka Pokrajcic in Melbourne, Australia said "Energy Curve Programme Participants can clearly establish a baseline of their current processing efficiency. Improved processing strategies are assessed against this baseline. Regular assessments may be used to illustrate processing efficiency. The tool helps support the building of a financial business case for improvement options including alternative processing strategies."
The CEEC energy curve is offered to industry without a participation charge, due to the generous support of CEEC's sponsors. Interest and participation is growing rapidly as more companies strive to improve their energy efficiency, output and costs. CEEC Chairman Joe Pease said "The CEEC Energy Curves Programme has developed into the single, most trusted energy and productivity benchmarking tool for comminution in these major metals globally."
CEEC supports the ongoing growth of the Energy Curves database. Energy Curves Chief Researcher Dr Grant Ballantyne said "The major global mining houses only produce 36% of the gold and 63% of the copper internationally which is comparable to the energy curve database. With the support of our growing number of industry participants, we are looking to expand to other commodities and add details like energy price, conveyor and pumping power, and media consumption."
CEEC is also aiming to expand the commodities information underpinning the Energy Curves database to offer even greater value across the industry. CEEC is seeking interest and participation from companies involved in the production of lead, zinc, silver, platinum, nickel, iron ore, coal, bauxite, phosphate, mineral sands and other commodities.
CEEC is a public-good, not for profit organisation that relies on industry sponsorship and volunteer support. CEEC aims to accelerate implementation of eco-efficient comminution and energy practices in the global mining industry. CEEC is thankful to be supported by visionary mining and METS companies who are supporting this initiative and actively leading the energy conversation. Our sponsors, advocates and patrons are proud to be involved and helping drive strong inroads to improvement and innovation in energy use in mining.
Join the energy conversation: 
CEEC, a global not-for-profit company, is funded wholly by valued sponsorship from the mineral industry - Anglo American, Antofagasta Minerals, Ausenco, Barrick Gold, Bechtel, CITIC-HIC, Donhad, FL Smidth, FMI, Freeport McMoran, Gekko Systems, Glencore Technology, Goldcorp, Metso, New Gold Inc, Orica, Oz Minerals, Sandvik, Steinert, TOMS Institute and Weir Minerals.
CEEC facilities and other in-kind support is kindly provided by AMIRA International, Austmine, IMARC, MEI, UQ Sustainable Minerals Institute and The AusIMM. 
CEEC: driving efficient mining.