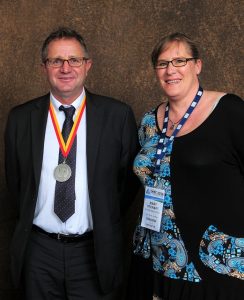 CEEC is delighted to share news on the 2016 CEEC Medal presentation. This annual award recognises the most outstanding published papers, articles or case-studies that contribute to energy efficient comminution.
For the first time in CEEC medal history, CEEC's technical review committee announced two 2016 winners: one recognising excellence in operations and a second recognising significant contribution to research. Dr Zeljka Pokrajcic, CEEC Technical Review Committee chair, stated "The CEEC medal selection committee decided unanimously to award two medals as the two outstanding papers contribute equally to different areas of our industry."
The winning research paper is: "Using Piston Press Tests for Determining Optimal Energy Input for an HPGR Operation", by Zorigtkhuu Davaanyam, Bern Klein, and Stefan Nadolski, delivered at SAG 2015.
Focusing on the important issue of energy optimisation, the paper presents a new method for HPGR selection and sizing using a laboratory piston press. These generic piston press tests are simpler and more accessible than the current pilot-scale vendor specific HPGR tests. They can run with significantly less sample at any facility with a hydraulic press.
Professor Bern Klein accepted the CEEC medals on behalf of his co-authors at the annual CIM MetSoc awards banquet in Quebec City. Bern is pictured here with CEEC Director Mary Stewart.
The CEEC medal is a key part of CEEC's activities. CEEC's Technical Review Committee evaluates papers on their potential to improve energy efficiency, the ability for concepts to be readily adopted by others, the robustness of the results and the clarity of communication.
Authors of the winning 2016 CEEC operations paper will be presented with their medals next week at the AusIMM Mill Operators conference in Perth, Australia.
Photo courtesy of the Metallurgy and Materials Society of the CIM (MetSoc), 12 September 2016