CEEC is delighted to share the recent presentation of the second 2016 CEEC Medal which celebrates the contribution of outstanding research and field work on strategies that promote energy efficiency and innovation in mineral processing and comminution. The medal was one of two CEEC Medals presented in 2016: one recognising excellence in operations and the other recognising significant contribution to research.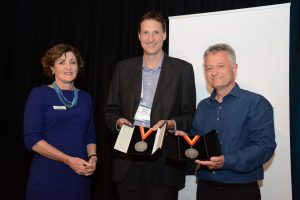 Photo Courtesy The AusIMM: Diana Drinkwater with 2016 CEEC Medal recipients Jim Wallace and Keith Cameron (Sam Strohmayr absent), Perth, Australia, Oct 2016
The 2016 CEEC Medal for excellence in operations goes to Jim Wallace, Sam Strohmayr and Keith Cameron for their outstanding paper focused on successful implementation of heavy medium pre-concentration to improve energy efficiency at the McArthur River Mine. The paper was titled "McArthur River Plant Heavy Medium Mine - The Benefits of Applying the Concepts of Modern Coal Plant Design Principles to Base Metal Heavy Medium Separation" and was delivered at MetPlant 2015.
CEEC Acting Executive Officer Diana Drinkwater presented the CEEC Medal to Keith and Jim on the night of Tuesday 11th October 2016.
The award is another example of how individuals can promote excellence and best practice in comminution and mining, saving energy and costs.
CEEC's Technical Review Committee evaluates papers on their potential to improve energy efficiency, the ability for concepts to be readily adopted by others, the robustness of the results and the clarity of communication.
The CEEC medal is a key part of CEEC's activities, a not-for-profit industry-funded organisation dedicated to helping the mineral industry improve the efficiency of comminution and energy use in mining.
Applications for the 2017 CEEC Medal will be opening soon: stay in touch via CEEC's website at www.ceecthefuture.org or join us on our LinkedIn group.