The Austmine 2019 conference in Brisbane, Australia, on 21-23 May provided a valuable opportunity for CEEC to network with sponsors and engage with and learn from industry leaders, miners, METS, educators and other stakeholders.
With a focus on Mining Innovation: The Next Horizon, the conference showcased transformative ideas and technologies to improve productivity and sustainability.
While at Austmine 2019 CEEC Director Alison Keogh and Events and Communication Coordinator Lindel Greggery took the opportunity to catch up with some of CEEC's valued sponsors and supporters, including Orica, Metso, CRC ORE, Gekko Systems, Anglo American and PETRA Data Science, and project funder METS Ignited.
Here's some interesting snippets from a few of the sessions we attended:
The Sky is the Limit – Natascha Viljoen, Global Head Processing, Anglo American
Anglo American is looking towards achieving a waterless mine by using energised dry stack; and the presentation by Natascha Viljoen shared how one site had achieved 30% less energy and water usage while increasing output by 20% and recovering 85% of water in sandy soils.
The company is also combining renewable energy, such as solar, with other sources to reduce greenhouse gases. By trialling hydrogen fuel cells to power a fleet of electric trucks, Anglo American hopes to "get five to ten percent more" out of its fleet, Natascha said.
Natascha posed some interesting questions to the audience about sustainability, asking "Can people coexist with mining in the same way as they do with farming?" She stressed that that the industry needed to "reimagine mining" so it was good for the community and humanity.
Natascha proposed that the industry could achieve a breakthrough outcome through collaboration on digitisation and technology innovation, which was a strong theme of the conference.
Creating Value through Technology and Innovation -
Mike Wundenberg Vice President Operational Technology and Innovation, Newmont
Mike shared how Newmont "wants to unlock value through digital transformation", citing open pit automation, optimised mine planning and remote operation as key areas of focus.
Across such a large global operation he said the organisation had identified six "critical few" targets to improve value and sustainability. These were:
Autonomous fleet
Advanced process control
Operations support hubs
Connected workers
Advanced analytics
Smart Mines – including mine plant optimisation and real time data.
Conference delegates enjoyed watching a case study video from the open pit Phoenix Mine, Nevada, US, where some of these technologies have been adopted with great success.
What is the future of plant and processing? –
Panel discussion: Joe Seppelt, Processing Manager, Carrapateena, OZ Minerals; Edwin Elias, Head of Ore Processing, Debswana; Prashanth Mysore, Industry Technical Director, Dassault Systemes; and Paul Maney, Manager Operational Readiness, Koodaideri Phase II, Rio Tinto.
This panel discussion was an informative session that focused on how processing is changing. Panel members agreed that future plants need to achieve a lower intensity footprint, and discussed some of the challenges and opportunities in transitioning to new designs and technologies.
"The key thing across operations is to develop the geometallurgical model," Edwin Elias said.
"This will ensure we understand the challenges, and identify what opportunities are there with our unit processes. Plus, we can use simulation to help us think about the plant of the future and what type of designs we have in place."
Prashanth Mysore agreed that simulation could be employed to better optimise sustainable plant and process design, and suggested plants of the future could potentially operate in "autopilot" mode. (You can read Prashanth Mysore's account of the panel session here.)
The panel discussed some of the exciting technologies that could change the face of mineral processing.
Joe Seppelt from CEEC Sponsor OZ Minerals said dry processing technologies would have more application and uptake in the future and, along with renewable energy uptake, to help improve mining's footprint.
Edwin Elias said the Remote Operations Centre at Roy Hill mine in the Pilbara area of Western Australia was a good example of innovation, delivering cost savings and improving productivity and sustainability. He said Debswana was working on a pilot plant to improve tailings storage and eliminate the construction of tailings dams, adding this could be a "game changer" for the industry.
Paul Maney said other exciting technologies to improve plant efficiencies included superfine crushing, Crushit band milling, Cyclomag, Core Resources Toowong Process and high arsenic, coarse flotation, advanced ore sorting technologies, dry stacked tailings and mobile feeders.
All agreed that knowledge sharing and sustainable partnerships were critical to furthering research and development on areas that would benefit the industry and the environment.
One example given was the joint venture between Apple and Alcoa Corporation and Rio Tinto Aluminium to commercialise patented technology that eliminates direct greenhouse gas emissions from the traditional aluminium smelting process. This revolutionary advancement is in line with Apple's sustainability credentials, with the company already powering all of its facilities with 100 percent clean energy, and adopting a long term plan to make all products from recycled or renewable materials.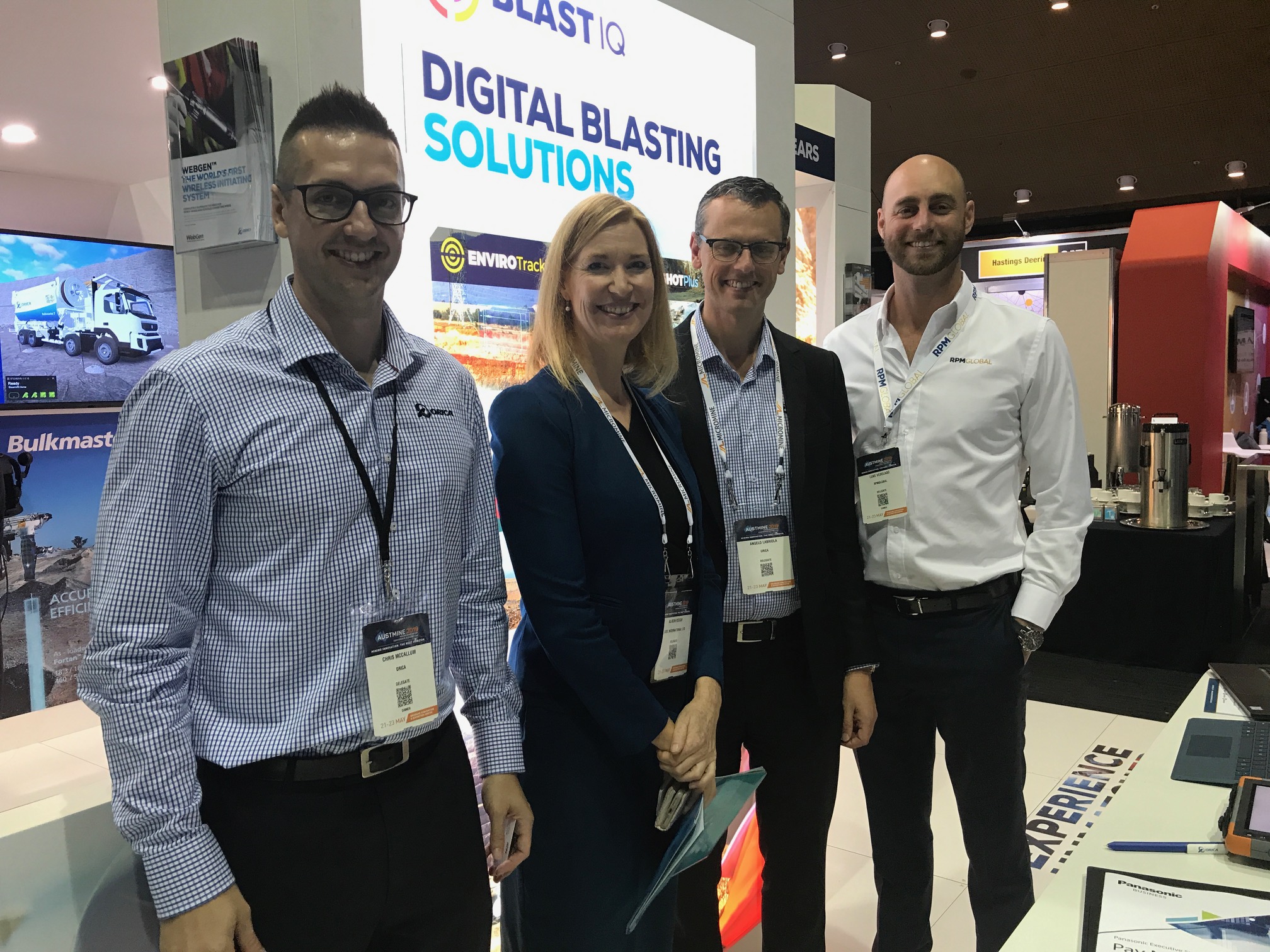 CEEC CEO Alison Keogh visited the Orica stand at Austmine 2019, where she caught up with Chris McCallum, Orica Marketing Manager Digital Products APA; Angelo Labriola, Orica Senior Marketing Manager, Digital Solutions; and Luke Vedelago, Business Executive, RPMGlobal.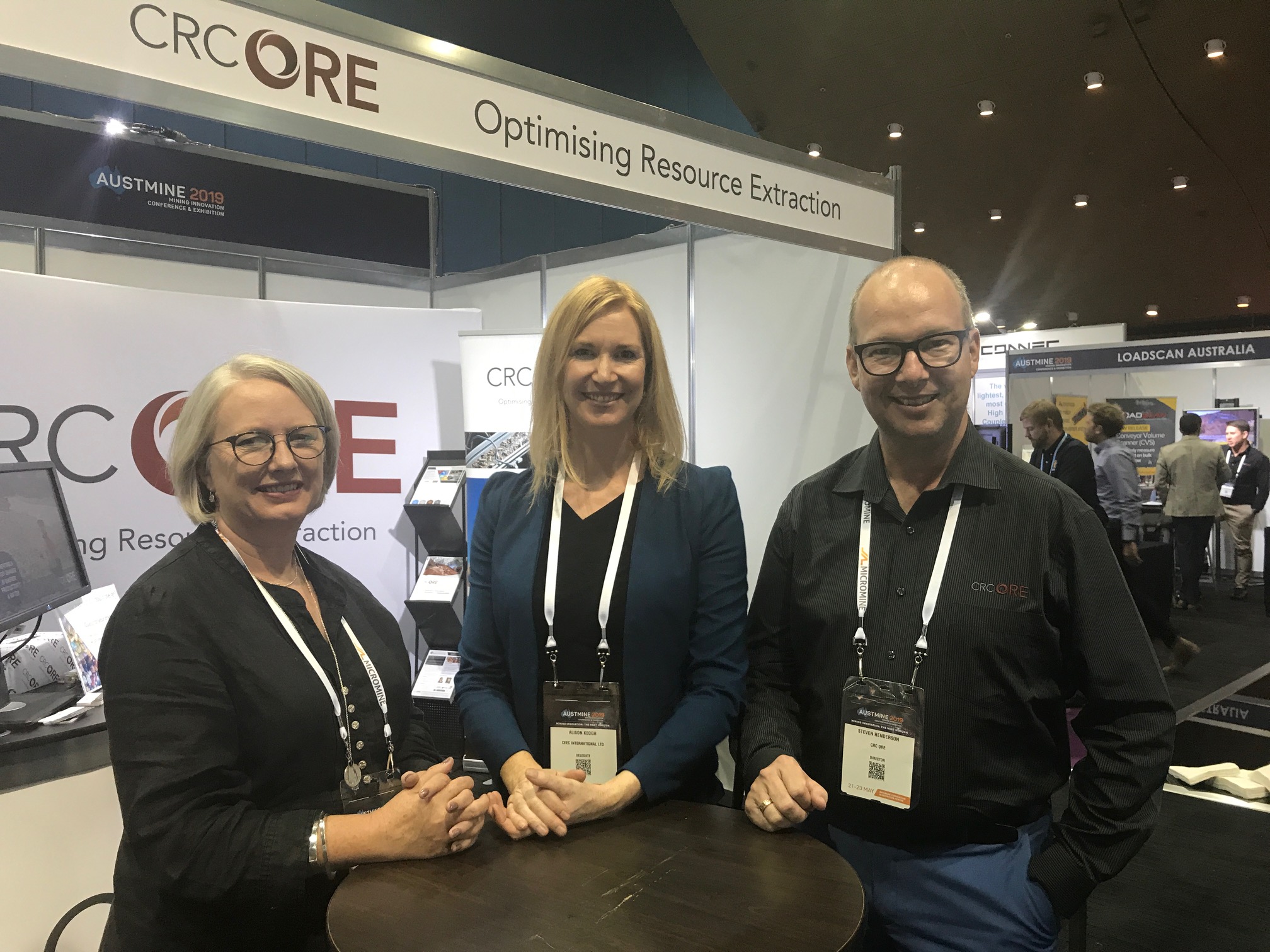 CRC Ore's Clytie Dangar, General Manager Stakeholder Engagement, and Steven Henderson, Senior Communications Professional, shared CRC updates with CEEC CEO Alison Keogh, at Austmine 2019.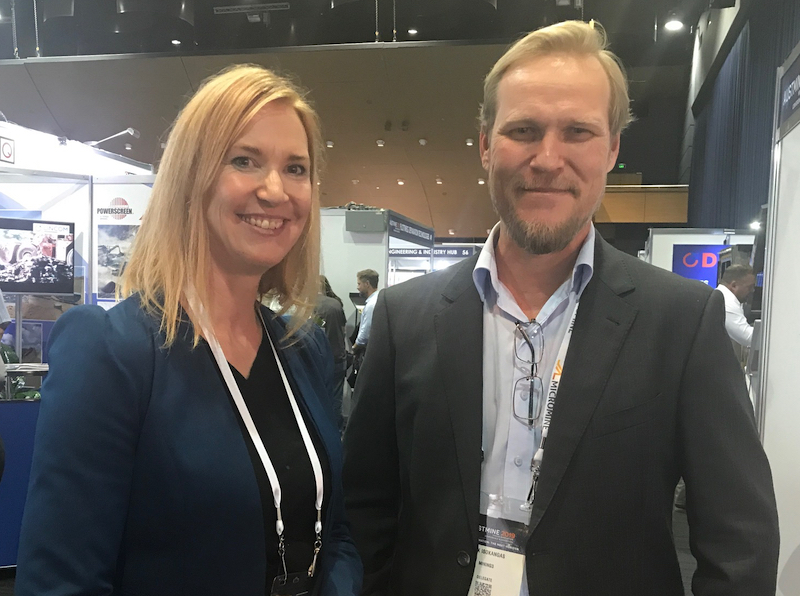 Mining3 Program Director Erik Isokangas and CEEC CEO Alison Keogh caught up on some of the latest mining technology research and development projects.