CEEC recently visited the AusIMM team in Melbourne, Australia, who have been busy in conference preparation and delivery, AusIMM Bulletin and other publications, and other professional development support activities.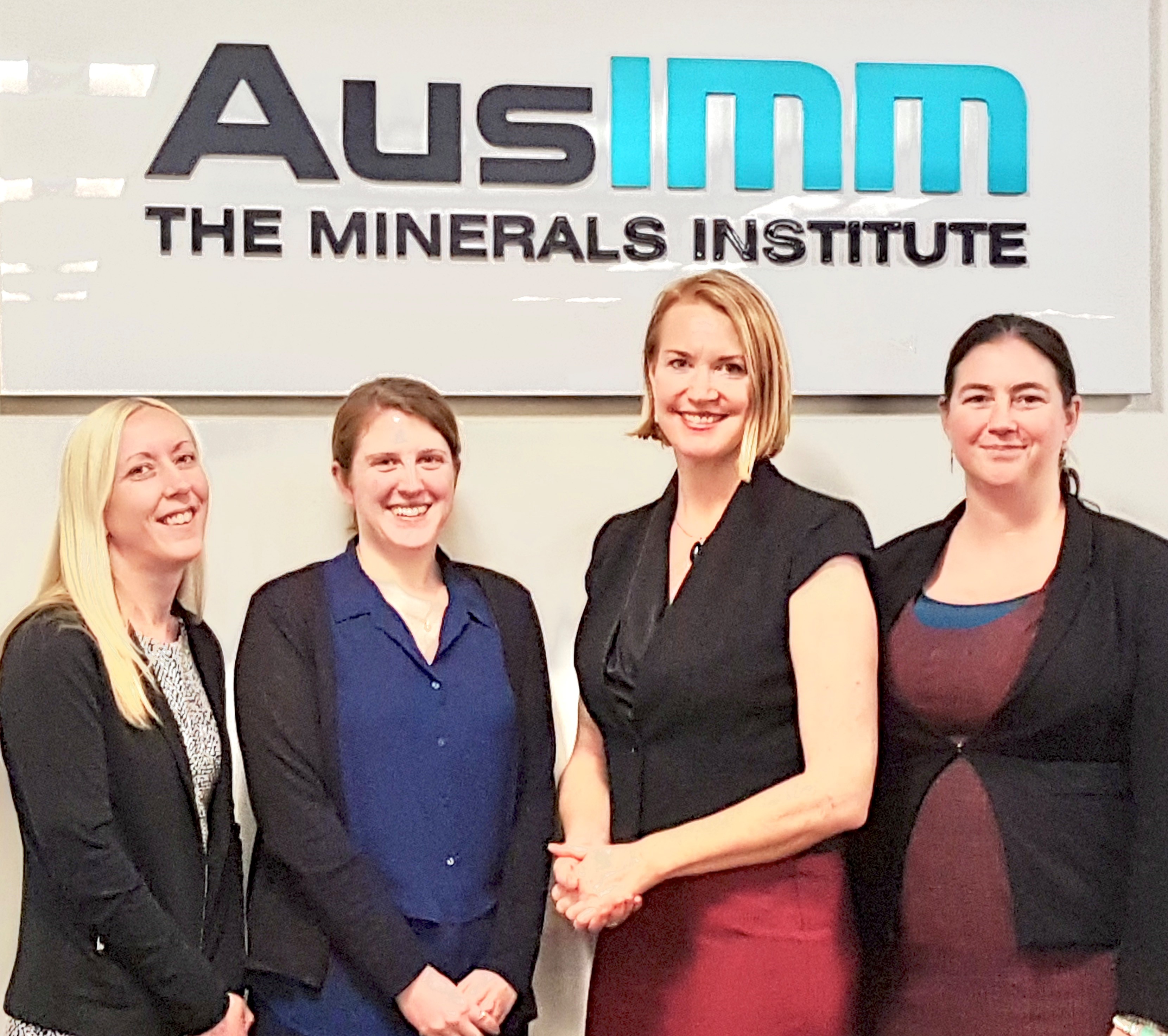 Upcoming AusIMM Conferences that may be of interest to CEEC readers include:
9th to 11th May, Perth, Western Australia: Eighth World Conference on Sampling and Blending

6th to 7th June, Adelaide, South Australia: The AusIMM International Uranium Conference 2017

24th to 26th July, Perth, Western Australia: Iron Ore 2017

7th to 8th August, Melbourne, Australia: The AusIMM New Leaders' Conference 2017

11th to 12th September, Perth, Western Australia: MetPlant 2017

30th October to 2nd November: International Mining and Resources Conference – IMARC 2017
Pictured here are: (L to R) AusIMM Mill Operators Conference Coordinator Eliza Sanneman, MetPlant Conference Coordinator Rachel Magill, CEEC CEO Alison Keogh, and AusIMM Director, Communications and Engagement Jenni Stiffe.
AusIMM's full conference list and details can be found here.
AusIMM Metallurgical Society Updates
The AusIMM continues to support the Metallurgical Society and many professional development opportunities in its conference series and more. The AusIMM Metallurgical Society provides resources and information is shared by the group.
For example, a webinar was run in 2016 and there are more planned in 2017 and beyond. The webinars were recorded and can be purchased via the AusIMM online store. 2016 webinar topics included:
Determining plant performance in depth (Philip Stewart)

Roadmaps for geometallurgical success (Dean David)

Practical models of CIL/CIP plants for analysis and prediction (Philip Stewart)

Selecting the correct cyanide destruction process for your plant (Nee San Yap).
In the February 2017 issue of the Society's news, Chair Aidan Giblett noted "You'll find a number of good articles in this edition of the newsletter covering a range of areas of interest from plant operations, technical content, professional development activities and minerals education."
The AusIMM's MetSoc has just welcomed a number of new committee members and thanked others for many years of valued voluntary service. Other recent MetSoc postings include:
Technical Seminars at JKMRC in Brisbane, Australia on Friday mornings on latest developments in sustainable mining

MEP: The Metallurgy Education Partnership co-funded by the Minerals Council of Australia and partner universities Curtin University, Murdoch University and The University of Queensland.

The 2016 Delprat Distinguished Lecture Series previous reported on by CEEC: Professor Tim Napier-Munn delivered 'Innovation in Mineral Processing: Distinguished Past and Uncertain Future' which attracted over 500 people across ten regional and city locations in Australia: Brisbane, Melbourne, Roxby Downs, Adelaide, Mt Isa, Perth, Kalgoorlie, Broken Hill, Sydney and Orange. Sponsors CITIC SMCC Process Pty Ltd, Extreme Metallurgy, Magotteaux, Orway Mineral Consultants and Pionera made the lecture series possible.
The AusIMM's Metallurgical Society news can be found at: https://www.ausimmbulletin.com/societies/metsoc/