[caption id="attachment_6834" align="alignleft" width="256"]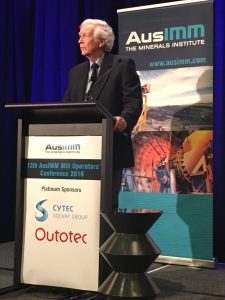 Tim Napier-Munn at 2016 Mill Operators Conference, Perth, Western Australia[/caption]
CEEC is pleased to have participated in a successful Mill Operators' Conference, held over three days in Perth, Western Australia. The conference had a timely and targeted focus on "Measure, Manage, Improve", with speakers sharing insightful developments and case studies that will help the mining sector to continue striving for leading practice and innovation.
Many of CEEC's valued sponsors were present at the AusIMM conference, which attracted some 150 participating companies, principally from the mining and METS sectors. CEEC was represented by Director Tim Napier-Munn who moderated a discussion on comminution testing and presented the best conference paper award. Comminution energy researcher Grant Ballantyne contributed to active discussions on comminution and energy efficiency, helping to further promote the CEEC Energy Curve and potential benefits to global operations.
Comminution was the primary topic of three of the eleven technical sessions. The programme featured a range of operations in Africa, South America, South-East Asia, Central Asia and Australasia. Many commodities were discussed including gold, base metals, platinum group elements and nickel, and speakers and exhibitors talked about some exciting and innovative techniques and technology.
Papers featured process optimisation and continuous improvement, comminution advancements, circuit efficiency global mining standards developments, design-to-operation performance, flotation and hydrometallurgy advances, process control and engineering excellence. Papers touched on a wide range of processing aspects including grinding, design, pre-concentration, milling, flotation, leaching, screening, recovery, assaying and test work, data and analytics, automation, quality and variability, scheduling, tailings management, energy and water usage. Experts commented on mill and metal price cycles, industry and global trends and critical skills and knowledge considerations.
CEEC is proud to support the industry in highlighting conferences and opportunities which enhance knowledge transfer and good practice in comminution and mining productivity. Relevant papers from the conference will soon be available via CEEC's Website Resource Centre. CEEC's Website Resource Centre continues to build as we receive new material from leading researchers and practitioners. Please email us at This email address is being protected from spambots. You need JavaScript enabled to view it. if you have a paper you feel would benefit the industry's inroads into energy efficiency and smart comminution strategies.