This, the 8th International Comminution Symposium (Comminution '12) is organised by MEI in consultation with Prof Malcolm Powell and Dr. Aubrey Mainza. It is sponsored by Starkey & Associates, Magotteaux, Maelgwyn Mineral Services, JKTech, Chemco Advance Material, Industrie Bitossi, Xstrata Technology,  DMM, Metso, Keramos, Industrial Minerals, International Mining, & The Gold & Minerals Gazette.
Themes
Comminution '12 has the following themes:
Improving environment sustainability while driving down costs

Designing and operating energy efficient circuits

Designing for the next generation of mines
Rheology – wet and dry

Influence on classification and fine milling
Compressed bed breakage

How to integrate HPGR's into circuits

Dry grinding and classification ahead of wet recovery processes

Driving into finer grinding
Fine grinding

Design of stirred mills – higher capacity, coarser feeds, media wear, energy consumption

Progress in modelling and scale-up
Draft papers will be published as an unrefereed Proceedings on CD-ROM, and selected papers will be published, after peer-review, in a special Comminution issue of Minerals Engineering journal.
Organisers
Comminution '12 is organised by MEI in consultation with Prof Malcolm Powell and Dr. Aubrey Mainza.
In 1997 Prof Malcolm Powell formed the comminution group at the University of Cape Town, following the suggestion of Prof Cyril O'Connor (director of the Mineral Processing Research Unit MPRU) -after a memorable MEI conference in Cornwall. From January 2007 Malcolm has joined the JKMRC of the University of Queensland to take up the Alban Lynch Chair in Sustainable Comminution.
Malcolm specialises in mill liner design, charge motion and DEM modelling, SAG mill modelling, and classification, with a strong link into applying the research knowledge in extensive site work and consulting to industry. The work aims to link fundamental research into applied outputs through the development of practical and robust process models.
Dr Aubrey Mainza graduated with a Bachelor of Science (majoring in Metallurgy and Mineral Processing) from the University of Zambia in 1998. He completed his PhD in Mechanical Engineering (specialising in the areas of comminution and classification in mineral processing) at UCT in 2006. He joined the Centre for Minerals Research as a Research Officer in 2002, then became a Senior Research Officer, and is now a Senior Lecturer in the Centre. Today Aubrey heads CMR's Comminution research, teaches core Chemical Engineering, and participates extensively in collaborative research with international universities, mining companies, and comminution and classification equipment manufacturers."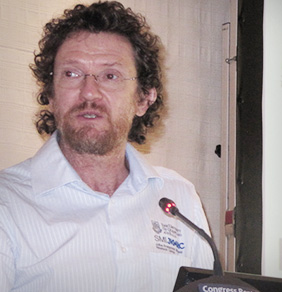 Dr Malcom Powell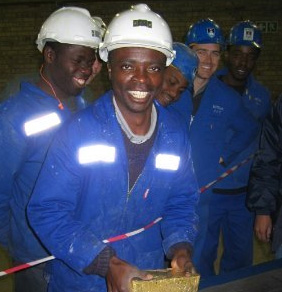 Dr Aubrey Mainza
Categories